Kickstarter Campaign to Spur Innovation and Break the Barrier between Reality and the Virtual World by Putting Control at Users' Fingertips
Control VR™, the leader in state-of-the-art motion capture technology, launched a Kickstarter campaign to release the first wearable gesture control system. Control VR™ turns a user's hands into the ultimate intuitive controller for PCs, tablets, virtual reality, augmented reality, and robotics.

The Kickstarter campaign aims to empower developers and enthusiasts to create applications of the future via access to Control VR™'s affordable development kit. Innovators can join this revolutionary, collaborative project by taking this movement to the next level by visiting the Kickstarter page.
Control VR™ overcomes the biggest hurdle facing the virtual reality industry by providing users with a fully immersive sense of virtual reality, allowing them to see and to use virtual hands and fingers in real time.
This patented technology far exceeds predecessors by utilizing the smallest inertial sensors, ultra low- latency, and ergonomic design without being confined to a camera's line-of-site.
Control VR™ has set the funding goal at $250,000 USD. With a contribution of $350 USD or more, each supporter gains early access to a Control VR™ control system, more than ten software applications, and access to a software development kit (SDK), which includes clear video tutorials to make integration with any 3D game or application as easy as possible.
"Every generation, there are a few powerful technologies that hold the potential to completely transform the way we communicate, work, heal, and play. Inertial motion capture has the potential to create world-changing consumer applications. I am thrilled that Control VR™ is delivering this previously exclusive technology to consumers to spark collective innovation with support from the Kickstarter community," said Alex Sarnoff, CEO of Control VR™.
Control VR™ brings together the experts in inertial motion sensor technology and software, as well as significant leaders in gaming, entertainment, and the military. Supported by nearly twenty years of development, their breakthrough patented technology has been trusted by Fortune 500 companies and leading technology firms such as Raytheon, NASA, and UbiSoft.
"This is the most significant development in virtual reality since Oculus," said Greg Goodrich, Veteran Game Industry Producer. "Control VR™ is finally providing users with the intuitive control system we've all been waiting for. I'm incredibly excited for gamers to get their hands into the gloves and to experience the future of virtual reality gaming."
The impact of the Control VR™ technology extends far beyond gaming into the realms of social interaction, education, design, entertainment, medicine, and more.
"I've worked with the Control VR™ engineers for the last 5 years, utilizing their technology to deepen our understanding of mobility in normal aging as well as in those with Parkinson's disease," said Christian Duval PhD., Leading Movement Disorder Specialist. "In order to advance research, we need to be able to afford these new technologies that previously were very expensive. Now that the price is reduced to consumer levels, I see a revolution for every industry that uses motion capture, as well as ones that previously could not afford it."
Control VR™ will be hosting a private suite and demonstrating the control system from June 10th-12th at the Los Angeles Convention Center during E3 2014. Press and developers may register to gain access to the Control VR™ suite by emailing rsvp(at)controlvr(dot)com.
About Control VR, Inc
Control VR™ is the leading provider of state-of-the-art inertial motion capture systems for consumer applications with an emphasis on virtual reality, PCs, and robotics. Control VR™ is led by a team of industry experts passionate about changing the way people experience the world forever and providing developers with the tools to create the game-changing applications of tomorrow. For more information on Control VR™, visit: http://www.controlvr.com.
Featured Product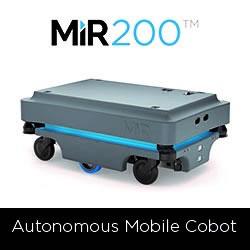 MiR200 is a safe, cost-effective mobile robot that automates your internal transportation. The robot optimizes workflows, freeing staff resources so you can increase productivity and reduce costs. MiR200 safely maneuvers around people and obstacles, through doorways and in and out of lifts. You can download CAD files of the building directly to the robot, or program it with the simple, web-based interface that requires no prior programming experience. With its fast implementation, the robots offers a fast ROI, with payback in as little as a year.