Munich, 6 June 2014: Yesterday, the winners and finalists of the first international competition in service robotics were recognised as part of the AUTOMATICA 2014 trade fair. Prizes were awarded to outstanding product innovations in two categories.

ReWalk™ exoskeleton wins Start-up Award
Taking home the competition's Start-up Award was Berlin's Argo Medical Technologies GmbH for ReWalk, the first walking-assistance solution designed for personal use in normal everyday life. Mobility is a tremendously important aspect of personal freedom, particularly for those who face severe limitations due to their health. The ReWalk exoskeleton suit offers help by employing patented technology and motorised legs that support knee and hip movement. "The ReWalk exoskeleton combines an outstanding technical methodology with a great deal of value for society," explained Dr. Gerd Hirzinger, honorary professor at TU München and former director of the German Aerospace Center's Institute of Robotics and Mechatronics, regarding the expert jury's choice of winner. "We think this product definitely has what it takes to establish itself on the global market, in terms of both personal use and rehabilitation." The Start-up Award was conferred by Anwendungszentrum GmbH Oberpfaffenhofen, the company responsible for organising the Service Robotics Masters competition.
VERSABALL® gripper picks up AUTOMATICA product prize
Another product prize, this one sponsored by AUTOMATICA itself, went to Empire Robotics, Inc. of Boston for its VERSABALL® gripper. This tool is based on a radically new, extremely flexible method of gripping and moving objects. It uses a balloon-like elastic form filled with granular material to enclose a wide variety of objects and structures. When the air is sucked out of the balloon, it forms a secure grip around the object in question. "This simple, but brilliant technical principle is flexible enough to be applied to a broad range of tasks and areas, which gives it an excellent chance to break through on the service robotics market," stated Thorsten Rudolph, managing director of Anwendungszentrum GmbH Oberpfaffenhofen.
The first Service Robotics Masters competition showcased a wide variety of technologies in this growing market. The application areas covered by the products submitted from numerous European countries, the United States, and Asia spanned from agriculture, production, transport, and logistics to healthcare, sport, and education. In recent years, related research has produced many service robotics technologies that are increasingly being brought to market by young companies. "The Service Robotics Masters competition is part of the ESA BIC Robotics Initiative, which represents our effort to build the leading innovation platform for up-and-coming service robotics companies in Europe," explained Frank Salzgeber, head of ESA's technology marketing and a supporter of the initiative. "In cooperation with strong research and industry partners, we're going to be providing these young companies with the financial, technological, and sales-related assistance they need." The ESA BIC programme currently comprises 11 European incubators that are capable of supporting up to 90 start-ups each year.
For further information on Service Robotics Masters and this year's winners and finalists, please visit www.robotics-masters.com.
Service Robotics Masters press contact:
Lena Klemm
+49 (0) 8105 - 77277-17
lena.klemm@anwendungszentrum.de
About Anwendungszentrum GmbH Oberpfaffenhofen (AZO)
AZO's business activities focus on supporting the foundation of companies and commercial applications based on aerospace technologies and infrastructures. On behalf of the European Space Agency, AZO oversees the operations of ESA BIC Bavaria, which is home to one of the most successful incubation programmes for the commercial use of aerospace technologies. The market for aerospace applications in other sectors - robotics, automotive, or healthcare, for example - is highly diverse and currently witnessing tremendous growth. This presents a great deal of potential, particularly for start-ups and SMEs. Meanwhile, AZO has also developed comprehensive expertise in organising international innovation competitions through its coordination of the European Satellite Navigation Competition and Copernicus Masters (Earth observation). In Service Robotics Masters' very first year, the company managed to bring a number of prominent partners on board, including Messe München, the ESA Business Incubation Centre (BIC) programme, the German Aerospace Center (DLR), SCHUNK GmbH & Co. KG, KUKA AG, SENSODRIVE GmbH, RoboDrive GmbH, and EUnited Robotics. In addition to its participation in many projects that seek to support aerospace-related activities - both at the EU level (FP7 in particular) and in individual countries - AZO organises international conferences and other events and conducts a series of developer workshops.
AZO was founded in the renowned aerospace hub of Oberpfaffenhofen (near Munich, Germany) in 2004 by the German Aerospace Center with the support of the Bavarian State Ministry of Economic Affairs. www.anwendungszentrum.de
Featured Product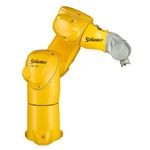 TX2 robots: redefining performance by offering collaborative safety and high performance in a single machine. These pioneering robots can be used in all areas, including sensitive and restrictive environments, thanks to their unique features. Safety functions are easy and inexpensive to implement. They allow a higher level of interactions between robots and human operators, while still guaranteeing protection of your people, production and investment.