Sinclair is partnering with the NCMR at Wright State University to begin integrating UAS into first responder training.
FOR IMMEDIATE RELEASE

Contact: Ryan Honeyman, Strategic Communications Coordinator
Sinclair Community College Workforce Development
Ryan.honeyman@sinclair.edu - 937.512.5743
Sinclair NCMR COA is Critical Step in First Responder Training
COA is a Joint Sinclair and Wright State Project to Increase Regional UAS Capability
DATE, Dayton, OH - Sinclair Community College has submitted an application for a new Certificate of Authorization (COA) to operate a new unmanned aerial system (UAS) platform at the National Center for Medical Readiness (NCMR) at Wright State University in Fairborn, Ohio.
With the approval of the COA, Sinclair's UAS Training and Certification Center will be permitted to operate the new platform, a Lockheed Martin Indago VTOL, which stands for "vertical take-off and landing," at the NCMR training environment Calamityville, located near Wright Patterson Air Force Base. The college is hoping for approval from the Federal Aviation Administration (FAA) in the next few months."
"Getting the COA to fly at NCMR is a great step in strengthening Sinclair's partnership with NCMR," said Deb Norris, Vice President for Sinclair Workforce Development. "The addition of the Indago platform will expand our already world-class capabilities and assist us as we develop new ways to integrate UAS technologies into our first responder training course."
Training and development tied to the new Indago platform will be shaped to Sinclair's UAS First Responder Leadership course, which provides an overview of UAS technologies and focuses on the potential applications of UAVs in law enforcement, fire, rescue, emergency medical and disaster response.
The training grounds located at Calamityville offer a variety of resources to prepare medical and non-medical personnel with the skills necessary to meet both day-to-day and catastrophic challenges. Sinclair will hold the first COA to operate the Indago at the NCMR location. Under FAA regulations, operations of UAS are strictly controlled through the COA system.
"Bringing Sinclair's expertise in UAS to the NCMR will provide us with an exciting new component in our mission to train personnel to prepare for emergencies and save lives," said Rufus Smith, Director of NCMR. "The ability to deploy these types of vehicles into an emergency will provide rescue teams with a situational awareness that can save lives by cutting response times and reducing risks."
In addition, Sinclair has submitted applications for two new COAs to operate the Indago platform at Wilmington Air Park and Springfield-Beckley Municipal Airport. Sinclair, the first community college in Ohio to secure airspace for testing UAS through the FAA, has already secured multiple COAs for its existing fleet of UAS platforms. The college currently holds six COAs to operate three fixed-wing UAS at both the Wilmington Air Park and the Springfield-Beckley locations.
###
Featured Product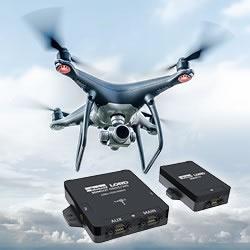 The new complete inertial navigation solution comes with GNSS/INS 3DMGQ7 sensor, 3DMRTK correction modem and real time SensorCloud RTK correction network. The sensor comes with Dual antenna GNSS, tactical grade IMU with centimeter-level accuracy with RTK. Low profile and light weight at 78 grams, this sensor is The sensor is optimized for size and weight in Unmanned Ground Vehicles, mobile robots and autonomous vehicles. The network interface 3DMRTK modem is seamlessly integrated into the 3DMGQ7 sensor supports industry-standard NMEA and RTCM 3.1 protocols. The network RTK support comes with cellular data plan. The SensorCloud RTK is a cloud-based RTK correction system with private encrypted data stream. Check out our G Series and C Series OEM products.