Product development firm produces early education robot that teaches programming fundamentals through play.
Product development firm, Boston Device Development (BDD), in support of educational toy startup KinderLab Robotics, is celebrating the Kickstarter campaign launch of KIBO, an interactive robot that teaches children the fundamentals of programming through physical play.

KIBO, originally developed by Tufts University professor Marina Umaschi Bers, makes programming tangible for young children ages four to seven years old. Different than other robot kits on the market, KIBO's open-ended approach to programming appeals to technically minded children as well as those who are more arts-oriented. Through assembling a sequence of scannable instruction blocks, children program the robot to perform a variety of tasks without help from computers or smart phones. Combined with KIBO's unique parts designed to be decorated, children can make almost anything: a character from a story, a carousel, a dancer, a helicopter.
Boston Device Development provided the mechanical design, product packaging, and developed the supply chain development for KIBO. In a six month period of time, the BDD team translated an early prototype into a commercially viable product ready for high-volume production, while reducing the cost of goods by two-thirds. "Getting a device ready for production with 20 distinct plastic parts and several PCB boards, while drastically cutting the cost of goods, required our team to be at their best," says BDD engineer Rob Colonna. "We are thrilled, "continues BDD Principal Derek Hatchett, "to have been able to give KinderLabs what they needed in order to make their KIBO robot a success during this initial Kickstarter campaign and beyond."
Boston Device Development was also responsible for developing some of the details that make KIBO a complete experience. The packaging concept, for example, modeled after the plastic bins that are often found in kindergarten classrooms, facilitates clean up and inventory of parts. The redesign of the scannable instruction blocks was also critical. With easy to scan bright colors, the labels are captured by a sensor that reads RGB values. This change in the way the blocks were read greatly reduced the overall cost of the product while adding a new element to the design of robot.
"We're very pleased," says KinderLabs CEO Mitch Rosenberg, "with BDD's breadth of technical talent in both the design and manufacturing aspects of this project." As KinderLab Founder Marina Bers echoes, "We had a working prototype in the field, but it was hand-built and quite expensive. BDD really listened to us, taking what we had that we liked and translating it into a viable consumer product."
The KinderLab Robotic's Kickstarter campaign will continue until June 28 with the goal of raising $50,000. The first production run of KIBO is estimated to ship this November.
About Boston Device Development
http://www.bostondevice.com
Boston Device Development (BDD) offers expertise in product development for a range of industries including the medical, scientific, industrial, and consumer fields. Founded in early 2009 to help MIT spinouts transform new technologies into market-ready devices, BDD provides product engineering services to entrepreneurs and established businesses alike from their offices in Boston and Philadelphia.
About KinderLab Robotics Inc.
http://www.kinderlabrobotics.com
KinderLab Robotics creates toys and educational tools that enable young children to learn critical technical, problem-solving, and cognitive skills in a developmentally appropriate and playful way. KinderLab products are based on over 15 years of academic and field research into how young children learn foundational concepts in programming and engineering by integrating them into a multidisciplinary curriculum that includes literacy, the expressive arts and cultural studies.
Featured Product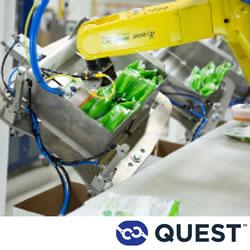 Quest is a leading manufacturer of industrial automation equipment focusing on robotics and vision-guidance. With expertise in the food, beverage, and dairy, Quest optimizes floor space for customers experiencing growing demand and helps improve their overall production line flexibility and efficiency. Quest offers application-specific software on their robotic products, including pick and place, case packing, and palletizing systems to simplify system setup and streamline configurability. Quest is a product brand of ProMach, a global leader in packaging line solutions.