Jet Edge, Inc., a leading manufacturer of industrial ultra-high pressure water jet systems, is exhibiting its latest water jet equipment at IMTS, Sept. 8-13 at McCormick Place.
Jet Edge, Inc., a leading manufacturer of ultra-high pressure water jet technology, is exhibiting its latest precision waterjet cutting systems at IMTS, Sept. 8-13 at McCormick Place in Chicago. Look for Jet Edge in the North Hall, booth N-6618.

During IMTS, Jet Edge will perform live 5-axis abrasive waterjet cutting demonstrations on its premiere 90,000 psi (6200 bar) EDGE X-5™ 5-axis waterjet with Aquavision Di control and Closed Loop Filtration System. The waterjet manufacturer also will showcase its new low-cost BOSS-CUTTER™ waterjet system, its 90,000 psi X-Stream intensifier pumps and eco-friendly and economically priced 55,000 psi (3800 bar) Eco-Jet direct drive pumps.
EDGE X-5 5-Axis Waterjet
Jet Edge's EDGE X-5 5-axis waterjet cuts precise taper-free parts from virtually any material. The system is capable of cutting sophisticated 3D parts such as impellers and bevels up to 50°. This workhorse waterjet system is designed to provide years of dependable service in harsh industrial environments. Its sturdy design separates the motion system from the catcher tank, eliminating vibration and ensuring maximum part quality. The EDGE X-5 utilizes an industrial PC controller. It is ball-screw driven for optimal precision and features direct-couple AC brushless digital servo motors and single or double carriages. Critical bearing components are protected with heavy metal covers with brush seals and positive air pressure. The Jet Edge EDGE X-5 waterjet machine is available in many sizes, from 5'x5' (1500 mm x1500 mm) to 24'x13.' (7300 mm x 3900 mm) An optional second cutting head can be added to double productivity.
BOSS-CUTTER™ Waterjet System
Designed especially for cost-conscious shops with limited floor space, Jet Edge's BOSS-CUTTER waterjet system cuts parts up to 6" thick from virtually any material. The BOSS-CUTTER is available in two sizes: 40"x40" (1000 mm x 1000 mm) or 60" X 60" (1500 mm x 1500 mm). It can be configured for both abrasive waterjet cutting and water-only cutting (abrasive is added when cutting hard materials such as metals; soft materials such as foam can typically be cut with water only). The system comes standard with a 30hp Jet Edge ECO-JET direct-drive pump, but can be upgraded to any of Jet Edge's 55,000 psi (3800 bar) pumps. Jet Edge offers both direct-drive pumps or hydraulic intensifier pumps, available in 30-280hp models. The BOSS-CUTTER is controlled with a Windows® PC and includes FlashCut Pro-Series Stepper Controller, FlashCutCNC software and IGEMS path generation software.
Jet Edge X-Stream Waterjet Intensifier Pump
Jet Edge's 100hp, 90KSI (75kw, 6200 bar), X-Stream xP90-100 waterjet intensifier pump is capable of producing 90KSI (6200 bar) and supports 75KSI (5200 bar) continuous operating pressure. The X-Stream achieves much faster cutting speeds and drastically lowers operating costs compared to traditional 60KSI (4100 bar) water jet pumps, enabling users to increase productivity and reduce part costs.
The X-Stream produces 50% more pressure than a 60KSI (4100 bar) intensifier pump, resulting in a 40-50% increase in productivity for many materials. Compared to a 60KSI (4100 bar) pump, typical operating pressures of 75KSI (5200 bar) use 30% less water, 30% less power, and up to 50% less abrasive, resulting in a 40% reduction in operating costs. The xP90-100 is capable of producing flow rates of 1.45gpm (5.49 L/m) and supports up to a .017" (.43 mm) orifice. Fittings and tubing are rated for 100KSI (6900 bar). The X-Stream is backed by nearly 10 years of extensive research and development in hyper-pressure technology. The X-Stream also is available in a 50hp (37kw) model.
ECO-JET Direct Drive Waterjet Pump
Eco-friendly and budget-friendly, the 30hp, 55KSI (22kw, 3800 bar) Jet Edge ECO-JET waterjet pump features an efficient direct drive pump design that consumes up to 40% less electricity than a 50hp (37kw) hydraulic intensifier pump, but produces the same output. The ECO-JET produces up to 1 gpm (3.78 L/m ) of 55KSI (3800 bar) ultra-high pressure (UHP) water for precision cutting, cleaning and surface preparation applications. It runs a .015 inch (.38 mm) waterjet orifice and can power most manufacturers' waterjet cutting systems and waterjet tools.
Jet Edge offers the widest range of waterjet pumps in the industry. Its pumps include hydraulic intensifier pumps and direct drive pumps. 36KSI (2500 bar), 60KSI (4100 bar) and 90KSI (6200 bar) models are available from 30-280hp (22-208kw). Electric and diesel models are available.
Waterjet Closed Loop Water Filtration System
Jet Edge's Waterjet Closed Loop Filtration System eliminates the need for a drain by filtering and reusing water. A closed-loop filtration system prevents the introduction of hazardous materials into drainage systems, protects the waterjet pump, maximizes orifice life and reduces water/sewage costs.
About Jet Edge
Established in 1984, Jet Edge is celebrating its 30th anniversary in 2014. Jet Edge is a global designer and manufacturer of waterjet systems for precision cutting, surface preparation and coating removal. Jet Edge systems are used around the world in a broad range of industries, from the world's leading airlines to automotive, aerospace, industrial manufacturers, machine and job shops. Jet Edge waterjets are proudly made in U.S.A.
Featured Product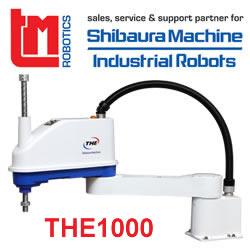 Designed for assembly and inspection applications in the electronics equipment and automobile components industries, the THE600 SCARA is a powerful automation tool. Advancing from the specifications of the existing THE400 SCARA, the THE600 has been developed to meet growing demand for fast-cycle automation. The THE600 model includes improvements in synchronised control and tracking precision. The THE600 is compact in design and offers improved high speed, with 60 per cent higher payload capacity than competing SCARA models in the same price range, making it the price-to-performance leader. Affordable price, impressive performance.