Six 100" video screens attached to six industrial robots help cruise ship operator take on-board entertainment and amenities to the next level
AUBURN HILLS, Mich. (June 12, 2014) - As Royal Caribbean designed its new Quantum Class cruise ships, a leading initiative was to take on-board entertainment and amenities to a level beyond that found on any existing seaworthy vessel. Consequently, the Quantum of the Seas and Anthem of the Seas ships currently under construction include such "firsts at seas" as a 300ft skydiving simulator, a large sports and recreation complex with bumper cars and a roller rink, and virtual balconies with real-time ocean views on all interior staterooms.

Video Media Delivered in Magical Way
The signature venue on each ship, however, is Two70°, a multi-level great room named for its magnificent 270-degree panoramic sea views through vast, floor-to-ceiling glass walls spanning almost three decks at the stern of the ship. A living room by day, Two70° transforms to an entertainment center by night, seamlessly blending live performances with cutting-edge visual technology, highlighted by six ABB RoboScreens® attached to a gantry above the main stage.
A RoboScreen is a graphical screen mounted to the arm of an ABB articulated arm robot, which creates a unique viewer experience by bringing virtually unlimited, 6-axis movement to the video media. Available in various sizes, the Two70° RoboScreens feature six ABB IRB 6620 robots, each holding a 100" diagonal Daktronics LED screen. Housed in the ceiling while not in use, during shows in Two70° the RoboScreens will extend down on the gantry to a position above the stage, displaying unique video and imagery while performing choreographed movements, all custom produced for the specific performance.
Developed by Andy Flessas (aka andyRobot) in conjunction with ABB, RoboScreens first gained prominence in 2010 when five large models travelled the globe as main stage props for the Bon Jovi Circle Tour. They have since added visual intrigue to a concert tour by Kis-My-Ft2, a Japanese Pop band; the Las Vegas house show for deadmau5, world famous music producer and performer; and the Ultra-Music Festival in Miami. The RoboScreens being installed on the Quantum Class ships will be the first on any sort of moving vessel.
The six Royal Caribbean RoboScreens will provide a high-tech visual enhancement to live performances in Two70°, moving in preprogrammed synchronization to the shows music and dance. The RoboScreens will periodically assemble in various formations, such as six screens in a row to form one continuous, long screen; a three by two stack to form one big square screen; or a serpentine row, much like a 'W and a 'V strung together. When the screens are together they can display one large cohesive video or image, and when they are apart they can display individual, coordinated images that virtually jump from screen to screen. The combined choreography of screen movement and innovative on-screen display provides an extraordinary accessory to the entertainment experience.
"We are always looking for the next thing, and by coincidence I came across the ABB RoboScreen in the Entertainment environment. It looked very interesting as a potential good fit for Two70° on the Quantum of the Seas," said Christopher Vlassopulos, an entertainment technology manager with Royal Caribbean. "After getting some valuable information from one of my contacts at ABB in Miami, the connection to ABB Robotics and Andy Flessas at Casino Arts was made."
First ABB Robots on Ships
The project involves the close collaboration of a number or parties, both within ABB and externally. Being the first installation of an ABB robot on any ship, the ABB Marine Power Group in Helsinki, Finland and the ABB Robotics North American team in Auburn Hills, Michigan worked together for the first time. The ABB PC software team in Gothenburg, Sweden is also involved, working on the programming software and addressing the unique challenges of operating robots at sea.
The external partners include Royal Caribbean, andyRobot, Daktronics, Waagner Biro, the gantry provider, Coolux, the video server manufacturer, and Meyer Werft, the shipbuilder based in Papenburg, Germany.
"As a manufacturer of industrial robots, collaboration both internally and with outside industry parties is a natural occurrence. But we had never worked with a cruise ship operator before, nor had we worked with ABBs Marine Systems and Solutions business," said Nick Hunt, an ABB Robotics technology manager working closely on the project. "Despite coming from widely disparate disciplines, each with its own arcane nomenclature, all groups were very accommodating, offering authoritative, expert advice within their spheres, making sure all parties fully understood the scope of their specific capabilities and recommendations without delay or procedural red tape."
andyRobot and the ABB PC software team collaborated to create a custom developed Show Builder software to allow the various live performance teams that work with Royal Caribbean to easily program the choreographed RoboScreen movements to complement their specific shows.
The core of the Show Builder software is a library of pre-programmed choreography building blocks that show producers can select from to model the RoboScreen movements. The library components are created using a Maya-based Robot Animator software package co-developed several years ago by andyRobot and the ABB RobotStudio simulation software team. A show is ultimately produced by selecting building block movements from the library in succession until the choreography is complete.
Making Theater
"Robot Animator is huge for the production companies that are going to be using the system to make theater," said andyRobot. "These tools will make it easy for production companies that have no experience with robots to incorporate the robots into their shows. They may not be familiar with robots, but they are all very familiar with animation."
The complexity of the project is magnified by the challenges that are presented by installing robots on a ship, safely withstanding the natural rolling movement and the varying seas the ship will routinely encounter.
"The challenge of installing robots on a ship are from the natural pitch and roll that occurs in varying magnitude from normal to moderate to rough seas," said Hunt. "To minimize the effects of this motion, the robots will have well defined thresholds for varying sea conditions."
The Quantum of the Seas is scheduled to launch in November of this year, and Anthem of the Seas will launch in April 2015.
"I had never worked with Andy but I knew him from previous projects in Las Vegas. Very quickly the creative juices started flowing and together with ABB, Meyer Werft, Daktronics and Coolux we arrived at a design thats totally unique and something I am sure our guests will really appreciate," added Vlassopulos.
View the video from Royal Caribbean on the RoboScreens in Two70°.
About ABB
ABB (www.abb.com) is a leader in power and automation technologies that enable utility and industry customers to improve their performance while lowering environmental impact. The ABB Group of companies operates in around 100 countries and employs about 150,000 people.
About ABB Robotics
ABB Robotics (www.abb.com/robotics) is a leading supplier of industrial robots - also providing
robot software, peripheral equipment, modular manufacturing cells and service for tasks such as welding, handling, assembly, painting and finishing, picking, packing, palletizing and machine tending. Key markets include automotive, plastics, metal fabrication, foundry, electronics, machine tools, pharmaceutical and food and beverage industries. A strong solutions focus helps manufacturers improve productivity, product quality and worker safety. ABB has installed more than 200,000 robots worldwide.
Featured Product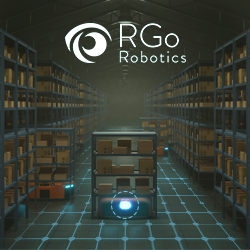 RGo's intelligent vision and AI system, Perception Engine™, provides mobile robots with 3D perception capabilities, enabling them to understand complex surroundings and operate autonomously just like humans. Its camera-based system operates is able to localize, map, and perceive in even the most robust environments including indoor/outdoor and dynamic or unstructured environments.