Oshkosh TerraMax® Unmanned Ground Vehicle technology increases troop safety during counter-IED Missions
OSHKOSH, Wis.--Oshkosh Defense, a division of Oshkosh Corporation (NYSE: OSK), will participate in daily live demonstrations at Eurosatory 2014 to showcase the companys TerraMax® Unmanned Ground Vehicle (UGV) technology. Attendees can observe an Oshkosh® MRAP All-Terrain Vehicle (M-ATV) equipped with TerraMax UGV and a mine roller autonomously navigating a course that simulates military route clearance missions.

"In todays conflicts, the frontlines have been blurred and troops carrying out logistics missions are exposed to improvised explosive devices and other lethal threats previously reserved for battle zones," said U.S. Army Major General (Retired), John Urias, executive vice president, Oshkosh Corporation and president, Oshkosh Defense. "The Oshkosh TerraMax UGV has the potential to reduce troops exposure to these threats, while optimizing the number of troops needed for such operations."
The Oshkosh TerraMax UGV enables military leaders to remove personnel from leader and/or follower vehicles traveling high risk routes and provides greater standoff distance from explosive threats. TerraMax UGV technology can readily adapt to account for mine rollers, ground penetrating radar, and other emerging systems used for the detection, disruption and pre-detonation of explosive hazards.
"Vehicles equipped with TerraMax UGV can be used in concert with manned vehicles for a spectrum of operations including logistics convoys, route clearance and counter-IED missions, airfield construction and support, and more," said Urias. "This technology allows vehicles to operate for extended periods of time through challenging terrain, dust, darkness, rain, snow and other adverse conditions without the fatigue or loss of awareness that can afflict human operators. This capability really forces us to think differently about how we conduct certain ground operations."
Oshkosh is conducting its TerraMax UGV product development independently and also in collaboration with the U.S. Marine Corps and Army to identify opportunities to use UGVs for route reconnaissance and route clearance missions. These current projects build upon previous contracts with the U.S. Office of Naval Research for the Cargo UGV Project, which focused on bringing UGV capabilities to logistics convoy missions and reducing troops exposure to threats.
About TerraMax UGV Technology
Oshkosh TerraMax UGV is a modular, multi-sensor appliqué kit that can be tightly integrated into new production vehicles or retrofitted onto legacy vehicle platforms. Vehicles equipped with the TerraMax UGV can seamlessly collaborate with manned vehicles to carry out missions at full operational tempo. TerraMax UGVs function autonomously across varying terrains and in all weather conditions, day or night - with original vehicle payload and performance retained.
Through 10 years of Oshkosh research and development, including independent and U.S. Government testing, TerraMax UGVs have the proven ability to:
*Obey traffic laws
*Avoid obstacles
*Travel at self-regulated speeds
*Operate in adverse weather conditions
*Operate during GPS blackout for more than 10 km without performance degradation
*Navigate rough terrain including off-road routes
*Maintain prescribed speeds up to 55 kph / 35 mph
Troops can be trained to operate TerraMax-equipped vehicles in only a few days, as the technology is designed to support rapid deployment. The user-friendly TerraMax operator control unit (OCU) enables a single operator to supervise multiple autonomous vehicles, as well as provide follower vehicles with over-the-horizon situational awareness. The system is highly interoperable, using a widely adopted, non-proprietary, open architecture messaging standard that enables modularity and easy integration of new subsystems. Oshkosh is teamed with the National Robotics Engineering Center (NREC) of Carnegie Mellon University for perception system and autonomy software development.
Live demonstrations including the Oshkosh TerraMax UGV will be held at Eurosatory each day at 10:30 a.m. and 3 p.m. outside of the Paris Nord Villepinte Exhibition Centre.
Oshkosh Vehicles on Display at Eurosatory
In addition to the live demonstration of TerraMax UGV, Oshkosh Defense will showcase the M-ATV Special Forces (SXF) variant and L-ATV Base variant on-site at Eurosatory in Hall 5 at Booth D657. An Integrated Product Support (IPS) kiosk showcasing Oshkoshs vast vehicle sustainment services will also be on-site with vehicle experts available to discuss the companys portfolio of vehicles, technologies and services.
About Oshkosh Defense
Oshkosh Defense is a leading provider of tactical wheeled vehicles and life cycle sustainment services. For more than 90 years, Oshkosh has been mobilizing military and security forces around the globe by offering a full portfolio of heavy, medium, light and highly protected military vehicles to support our customers missions. In addition, Oshkosh offers advanced technologies and vehicle components such as TAK-4® independent suspension systems, TerraMax® unmanned ground vehicle solutions, Command Zone™ integrated control and diagnostics system, and ProPulse® diesel electric and on-board vehicle power solutions, to provide our customers with a technical edge as they fulfill their missions. Every Oshkosh vehicle is backed by a team of defense industry experts and complete range of sustainment and training services to optimize fleet readiness and performance.
To learn more about Oshkosh Defense, please visit us at www.oshkoshdefense.com.
About Oshkosh Corporation
Oshkosh Corporation is a leading designer, manufacturer and marketer of a broad range of specialty access equipment, commercial, fire & emergency and military vehicles and vehicle bodies. Oshkosh Corporation manufactures, distributes and services products under the brands of Oshkosh®, JLG®, Pierce®, McNeilus®, Jerr-Dan®, Frontline™, CON-E-CO®, London® and IMT®. Oshkosh products are valued worldwide in businesses where high quality, superior performance, rugged reliability and long-term value are paramount. For more information, please visit www.oshkoshcorporation.com.
Featured Product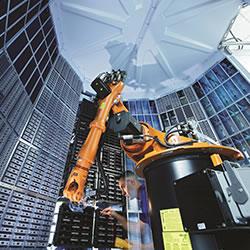 The industry's first comprehensive Robot Integrator Program saves robot integrators significant time and cost investments by allowing them to mark each cell compliant with ANSI/RIA R15.06 with the TUV Rheinland Mark. As opposed to a traditional certification or an on-site field labeling, TÜV Rheinland's Robot Integrator Program certifies the knowledge and skill-set of robot integrators in addition to testing robotic cells and processes against ANSI/RIA R15.06. This reduces the need for frequent onsite or off site testing and allows manufacturers to apply a single TÜV Rheinland label to multiple cells. The Robot Integrator Program individually assesses a robot integrator's understanding of the ANSI/RIA R15.06 standard along with the ability to consistently produce compliant robot cells. Following the requirements and procedures of the new program will enable robot integrators to produce individually compliant robotic cells under one serialized TÜV Rheinland Mark, which meets the national electric code and allows acceptance by Authorities Having Jurisdiction (AHJ) and end users.