Davron has been commissioned to design and manufacture a natural gas indexing conveyor oven for a Tier 1 automotive supplier.
Chattanooga, Tennessee June 17, 2014

Davron Technologies, Inc. designed and manufactured the DTI-1140, a natural gas heated indexing conveyor oven system that heat treats engine components for a Tier 1 automotive supplier. The system includes one indexing conveyor oven, one quench tank, one rinse tank, and an automated pick-and-place system, which had to be precisely calibrated to streamline the customers heat treating process and meet its demanding production requirements.
The heated chamber in the DTI-1140 indexing conveyor oven system includes four index positions that process 840 parts (530 pounds) in an eight-hour cycle. In the first zone, product ramps to temperature and then soaks in the next three positions. For the heat treat process to be successful, the product must never dip below the temperature reached in the first zone. Upon exiting the heated chamber, the product must be submersed in the quench tank within seconds. The DTI-1140s sophisticated heating and air distribution system, along with its pick-and-place system, ensure that both of these critical requirements are met.
The DTI-1140 features two zones of temperature control in the heated chamber. Each zone is individually controlled to enable flexibility in the temperature profile and utilizes its own natural gas burner and circulation fan. The DTI-1140 also includes one exhaust fan to meet NFPA standards for gas-fired equipment. The maximum operating temperature is 1000ᴼ F. The indexing conveyor oven features PLC control and all motion functions are controlled by servo for accuracy and speed. Both the quench and rinse tanks include electric heaters to ensure solutions are the required temperatures prior to the start of production. The quench tank also features a chiller to cool the solution after each cycle.
The useable dimensions of the DTI-1140 are 40" wide x 26" high x 298" long. The interior of the oven is made out of 16-gauge aluminized steel backed by ten inches of eight-pound density mineral wool insulation. The exterior is constructed of 16-gauge carbon steel backed by a structural steel frame and finished with high-temperature paint. The oven features four access doors for explosion relief and access to the heated chamber. Pneumatically operated vertical doors cover both the entrance and exit of the oven chamber.
Davron designed the DTI-1140 indexing conveyor oven system based on three criteria provided by the customer: the production rate, the product size, and the temperature profile for the heat treating process. Once the indexing conveyor oven system was manufactured, Davron did extensive acceptance testing and training with the customer at Davron headquarters in Chattanooga, Tenn., prior to shipment. The system was then disassembled, prepared and packaged for shipment, and installed at the customers facility by Davron personnel.
Visit http://www.davrontech.com for more information about Davrons indexing conveyor oven capabilities. Or, if youd like to discuss your own industrial oven project, please call Davrons Vice President, Jimmy Evans, at (888) 263-2673, or fill out Davrons online spec submission form.
About Davron Technologies, Inc.
Davron Technologies, Inc. custom fabricates industrial ovens, providing turnkey design and system integration services to develop thermal processing solutions. Davron is a total industrial oven manufacturer, creating custom industrial ovens and precision process equipment for every industry that requires thermal processing. Each Davron industrial oven is custom built according to customers unique specifications. As the Provider of Industrial Oven Solutions, Davron offers one of the largest selections of in-house and on-site industrial oven services in the world.
Featured Product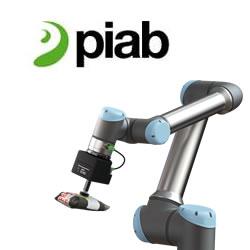 Piab's Kenos KCS gripper enables a collaborative robot to handle just about anything at any time. Combining Piab's proprietary air-driven COAX vacuum technology with an easily replaceable technical foam that molds itself around any surface or shape, the gripper can be used to safely grip, lift and handle any object. Standard interface (ISO) adapters enable the whole unit to be attached to any cobot type on the market with a body made in a lightweight 3D printed material. Approved by Universal Robots as a UR+ end effector.