Expands Support of Veterans with SoldierSocks Partnership
STAMFORD, Conn.--United Rentals, Inc. (NYSE:URI), the leading provider of equipment rental services in North America, has expanded its longstanding support of military veterans by affiliating with the non-profit organization SoldierSocks. The companys initial donation of $50,000 helped fund an Ekso™ bionic exoskeleton SoldierSuit for veteran Dan Rose, a retired Army sergeant who was severely paralyzed by a bomb in Afghanistan.

Michael Kneeland, chief executive officer of United Rentals, said, "It is a privilege to know that we can help deliver a life-changing technology to veterans who have paid such a high price for their military service. Through SoldierSocks and the bionic SoldierSuit, paralyzed veterans can literally take the next steps in reclaiming their mobility. This partnership resonates with our employees on every level, particularly in our commitment to innovation and our steadfast support of military veterans."
United Rentals engages in numerous activities to assist veterans in civilian life, including the funding of service dogs through Educated Canines Assisting with Disabilities (ECAD). The company has been named a Top 100 Military-Friendly Employer® for five consecutive years by GI Jobs magazine, a Most Valuable Employer (MVE) for Military® for four consecutive years by CivilianJobs.com, and a 2014 Most Valuable Employer for Military® by MilitaryTimes.com.
United Rentals first supported SoldierSocks in November of 2013 with a commodities donation drive, contributing over 2,500 lbs. of supplies for U.S. troops. As SoldierSocks co-founder and chairman Chris Meek noted, "It was a little daunting when packages started showing up from over 700 branches! The drive was a tremendous Veterans Day gesture from United Rentals employees, and now the companys corporate support has been a key to our funding of Ekso mobility robotics for veterans."
SoldierSocks was founded in 2009 with the mission of providing donated socks and other basic necessities to troops deployed in Afghanistan and Iraq. To date, the non-profit organization has shipped over 50,000 lbs. of items to U.S. military forces. In 2013, SoliderSocks expanded its fundraising scope by partnering with Ekso Bionics to help paralyzed veterans walk again with the aid of Ekso™ SoldierSuit technology. www.soldiersocks.com
About United Rentals
United Rentals, Inc. is the largest equipment rental company in the world. Following the acquisition of National Pump, the company has an integrated network of 876 rental locations in 49 states and 10 Canadian provinces. The companys approximately 12,200 employees serve construction and industrial customers, utilities, municipalities, homeowners and others. The company offers for rent approximately 3,100 classes of equipment for rent with a total original cost of $7.99 billion. United Rentals is a member of the Standard & Poors MidCap 400 Index, the Barrons 400 Index and the Russell 2000 Index® and is headquartered in Stamford, Conn. Additional information about United Rentals is available at www.UnitedRentals.com.
Featured Product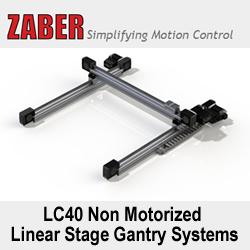 Zaber's X-LRQ-DE Series of linear stages have high stiffness, load, and lifetime capabilities in a compact size. The integrated linear encoder combined with stage calibration provides high accuracy positioning over the full travel of the device. At 36 mm high, these stages are excellent for applications where a low profile is required. The X-LRQ-DE's innovative design allows speeds up to 205 mm/s and loads up to 100 kg. Like all Zaber products, the X-LRQ-DE Series is designed for easy set-up and operation.