RE2 to assess feasibility of robotic technologies for vineyard operations
PITTSBURGH, PA - June 18, 2014 - RE2, Inc. announced today that the company is partnering with Texas A&M AgriLife Extension Service, an agency within The Texas A&M University System, as a subcontractor on the USDA National Institute of Food and Agriculture (NIFA) Foundation Program, Assessing Viticulture Production Practices for Robotic Technology Development. RE2 will provide expertise to assess and recommend robotic technologies to meet the needs of the viticulture industry.

The goals of this project include the identification of issues and operations that are commonly utilized in the production of grapes and verification of which operations are most suitable for robotic technology development. The team will also determine the economic feasibility of adopting robotic technology for vineyard operations.
"The specialty agricultural industry in particular is primed for robotic technology as it faces a variety of production issues that could affect long-term competitiveness. One significant issue is the availability of skilled labor, which generally leads to production quantity and quality issues, higher production costs, and adversely affects competitiveness in global markets," stated Reeg Allen, Director of Business Development for RE2.
"We are excited to have this opportunity to partner with Texas A&M to identify how the United States can improve its global competitiveness through increases in production by using robotic technologies," stated Jorgen Pedersen, RE2 president and CEO.
About RE2, Inc. RE2 is a leading developer of Intelligent Modular Manipulation Systems. RE2's mission is to advance the state of the art of mobile manipulation. RE2's development efforts are focused on creating interoperable manipulation systems, intuitive human robot interfaces, and advanced autonomy software for mobile robotics. For more information, please visit www.resquared.com or call 412.681.6382.
Featured Product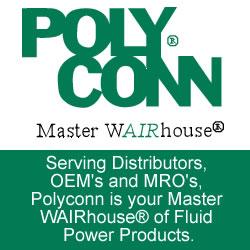 We can produce pneumatic hose and other pneumatic products to match your exact specifications. Our proficient engineering and quality management, coupled with outstanding customer service means Polyconn delivers high quality pneumatic components at competitive prices. Place your order or contact Polyconn for more information on our pneumatic hoses, pneumatic manifolds, Duratec® Pipe or any of our other top quality pneumatic products and components.