Teledyne DALSA, a Teledyne Technologies company and global leader in machine vision, has expanded its GEVA family of multi-camera vision systems with the GEVA-312T.
GEVA vision systems offer the ease-of-use, performance and flexibility to meet the diverse requirements of industrial inspection, while accommodating the needs and experience of end users.

The GEVA-312T is a stand-alone system with a built-in touch screen display that delivers flexibility and easy migration with multiple GigE ports. The GEVA-312T is compatible with a wide range of GigE cameras, including Teledyne DALSAs full range of Genie cameras.
"Our new GEVA-312T is an excellent choice for customers looking for a complete vision system that is low-cost, expandable and appropriate for a wide range of applications," commented Steve Geraghty, Director of Industrial Products. "The system is equipped with our iNspect Express or Sherlock application software which provide extensive vision capabilities, communication protocols and runtime operator interfaces for efficient factory integration".
The GEVA-312T comes complete with a 12-inch touch screen display, 1.6GHz dual core processor and two Gigabit Ethernet camera ports for camera and network interfacing. Applications using one or two cameras can connect directly to the Camera/LAN ports on the unit. Additional cameras can be accommodated using standard, low-cost Gigabit Ethernet switches. The slim-line form factor of the GEVA-312T maximizes control panel real estate for PLCs, motions controllers and non-vision related components.
Source: http://teledynedalsa.com/
Featured Product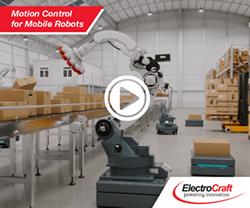 ElectroCraft is showcasing its award-winning mobile robot technology including their powerful and compact wheel drives, high-torque-density brushless DC motors, precision linear actuators as well as servo motor drive technology at a variety of conferences and tradeshows including the Boston Robotics Summit. Robotics Summit is the premier symposium for the sharing of ideas, technology, and market developments for robotic technologies across industries. Beyond a showcase and pitch of product, ElectroCraft is eager to participate in the collaborative discussion of challenges and opportunities that will shape the near and long-term robotic marketplace.