Automatic Handling International Inc., a leading manufacturer of custom handling systems, announces the issuance of a patent for a method of removing wires from a bale, US patent number 8,707,532. This patent is another innovation within Automatic Handling's extensive line of bale handling equipment.
This invention is an apparatus that removes wires from bales in a timely and efficient manner, while eliminating potential for injury to workers. The invention includes, among other things, a robot having a full range of movement on three planes. The robot carries an end of arm tool which is comprised of a vision system for locating the wire and a cutting tool for cutting the wire. The end tool further includes a wire collecting spindle which removes the cut wires from the bale. The robot transports the wires to a hopper and the wire collecting spindle deposits the wires in the hopper.

The apparatus includes a conveyor system for moving one or more bales and a de-wiring station positioned adjacent the conveyor system. The de-wiring station includes the robot with end tool. A bale that is bound by one or more wires is transferred by the conveyor system to a position proximate the de-wiring station. The robot with end tool then moves to sense the location of the wires, cut the wires, collect the wires and deposit the wires in a collection hopper. The de-wired bale is then moved by the conveyor system and another wire bound bale is moved to the de-wiring station.
About Automatic Handling International
Established in 1972, Automatic Handling® has over 40 years of experience in a variety of material handling industries. They develop innovative solutions that integrate the latest technology with proven machine designs to create an end-product that will improve efficiency and reduce costs for their customers. Utilizing the capabilities of its engineers and manufacturing facilities, Automatic Handling provides custom solutions for customers worldwide.
Featured Product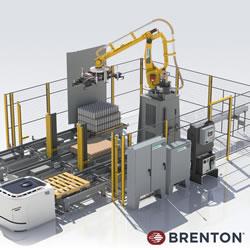 Brenton is a leader in robotic solutions with standard product offerings including palletizing and depalletizing for efficient an option for carrying hard-to-handle products, as well as larger scale systems with an optimized footprint; and case and carton loading solutions for numerous industries. In addition, Brenton works with customers on integrated solutions, offering robotics in a broad spectrum of robotics to fully integrate end of line systems. Brenton helps packaging customers protect their reputation and grow the trust of their consumers.