Silicone-insulated leads perform better in extreme temperatures
June 24, 2014 (Lincolnshire, IL) - Klein Tools (http://www.kleintools.com), for professionals since 1857, expands its Test & Measurement accessories product line with a new Universal Premium Silicone Test Lead Set. These silicone-insulated test leads withstand more extreme temperatures - up to 2X the operating temperature range - than PVC test leads. In addition, the more durable banana plug and probe strain reliefs as well as the built-in wear indicator on probe wires, make these leads tougher and more reliable than regular test lead.

"With the frigid temperatures we have experienced over the past few seasons, a more resilient test lead set is a requirement in any tradesmans tool bag," states Sean OFlaherty, senior product manager of Test & Measurement at Klein Tools. "By utilizing Kleins new Universal Premium Silicone Test Lead Set, with twice the operating temperature range of PVC test leads, you can get the job done in environments with extreme temperatures, particularly when working outdoors in severely cold weather."
Universal Premium Silicone Test Lead Set (Cat. No. 69416):
Silicone-insulated for greater performance in temperature extremes:
* Silicone test lead set temperature range: -4° to 131°F (-20° to 55°C)
* Temperature range is 2X that of PVC test lead sets
· Enhanced strain relief and durability
*Built-in wear indicator on probe wires
*Standard banana-type inputs compatible with most multimeters and clamp meters
*Leads compatible and fit lead storage compartments on most Klein meters
*Length: 48"
*Safety rating: CAT III 1000V / CAT IV 600V
*Includes one pair of test leads and removable CAT III / CAT IV caps
For further details or more information visit our website at www.kleintools.com or contact your local distributor.
Featured Product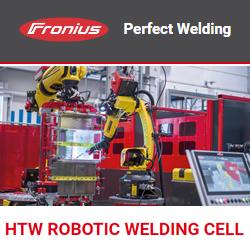 Modular, collaborative, and flexible: the "Handling-to-Welding" robotic welding cell joins parts of different geometries and materials. The task is carried out by two robots - the handling robot positions the workpieces, the second robot performs the welding. Depending on the cell configuration, lock gates are available for the inward and outward transport of parts. Furthermore, various positioners, a TCP measurement system, a torch cleaning system, a gripper station, and a contact tip change system are also possible.