At Eurosatory 2014, Company Showcases Global Reach, Displays Offerings with Raytheon, Lockheed Martin, Others
Morgan Hill, Calif. June 24, 2014

Demonstrating both its global reach and its expanding range of applications, world-class LiDAR manufacturer Velodyne (http://www.velodynelidar.com) managed to be in five places at once at Eurosatory 2014, the land and air-land defense and security exhibition, held in Paris June 16-June 20.
Velodyne sensors were on view in security, autonomous driving, and UAV applications, in conjunction with such major players as Lockheed Martin, Raytheon, Oshkosh, LH Aviation and G-NIUS. The leading global meeting of its kind, Eurosatory 2014 has become the major gathering dedicated to homeland security, civil security and corporate safety, with representatives of several interior ministry entities on hand and more than half the exhibitors offering various security solutions.
"Eurosatory was a great example of the broad range of applications for our real-time 3D LiDAR sensors," said David Oroshnik, Velodynes Technical Sales Manager. "The international acceptance of our products in these diverse environments is a tribute to Velodyne CEO and founder David Hall and the entire Velodyne engineering team."
Velodyne is recognized worldwide for developing high-definition LiDAR (Light Detection and Ranging) sensors for autonomous vehicle applications, 3D mapping and surveying, and - at Eurosatory - much more:
o Velodynes compact 360° HDL-32E real-time 3D LiDAR scanner serves as the lynchpin of Raytheons "People Tracking" software package, used to monitor persons of interest in public spaces. Designed both military and civilian security and surveillance applications, Raytheons People Tracking Software covers sensitive spaces with virtual hot-zones and analyzes crowd behavior by looking for anomalies in crowd flows. Using an automated process for detecting anomalies reduces human error and streamlines this process even over long surveillance times. Velodyne's real-time 3D sensor helps to point directional PTZ cameras (pan/tilt/zoom) to items of interest.
o Lockheed Martin, maker of the Squad Mission Support System (SMSS) -- which has been used in Afghanistan -- showcased the Velodyne HDL-64E LiDAR sensor with its self-driving vehicle. Lockheed Martin brought a scaled-down model of the SMSS to the show, highlighting the advantages of the vehicle for operational use in challenging environments via detailed video presentations.
o Velodynes high-definition LiDAR sensors were on display four times daily during two outdoor, hour-long live product demonstrations by Oshkosh. The company equipped its MRAP All-Terrain Vehicle (M-ATV) with the HDL-64E LiDAR sensor for object detection and collision avoidance. Outfitted with a mine roller, the M-ATV proved to be a real crowd-pleaser by autonomously navigating a challenging course that simulated military route clearance missions.
o Velodynes latest generation sensor, the compact/lightweight HDL-32E, went airborne during live demonstrations of LH Aviations Explorair 45 Multi-Mission VTOL UAV. LH Air's new UAV uses a kerosene-fueled turbine engine to minimize vibration and maximize flight time. With an estimated duration of one hour, the Explorair 45 is a promising new platform in the rapidly growing market for aerial LiDAR mapping.
o While a bit challenging to find under camouflage cover, the HDL-32E LiDAR sensor served as the "eyes" of the Hybrid Unmanned Ground Vehicle from G-NIUS of Yokneam, Israel. G-NIUS is a leader in field-proven, all-weather, all-terrain vehicles ground systems. The new Hybrid Multipurpose Vehicle (HMV) is designed to keep soldiers out of harms way.
About Velodyne LiDAR
Founded in 1983 and based in Californias Silicon Valley, Velodyne Acoustics, Inc. is a diversified technology company known worldwide for its high-performance audio equipment and real-time LiDAR sensors. The companys LiDAR division evolved after founder and inventor David Hall competed in the 2004-05 DARPA Grand Challenge using stereovision technology. Based on his experience during this challenge, Hall recognized the limitations of stereovision and developed the HDL64 high-resolution LiDAR sensor. More recently, Velodyne has released its smaller, lightweight HDL 32E sensor, available for many applications including UAVs. Since 2007, Velodynes LiDAR division has emerged as a leading developer, manufacturer and supplier of real-time LiDAR sensor technology used in a variety of commercial applications including autonomous vehicles, vehicle safety systems, 3D mobile mapping, 3D aerial mapping and security. For more information, visit http://www.velodynelidar.com.
Featured Product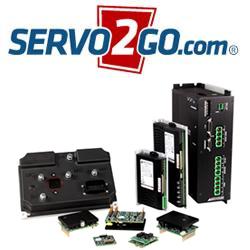 Engineered to drive brushless and brush servomotors in torque, velocity or position mode, Servo2Go.com offers a broad selection of servo drives in a wide range of input voltages and output power levels.