Need-Based Grant to Provide Aid to 700+ New – Middle and High-School – Teams Enrolling in the FIRST® Tech Challenge Program
MANCHESTER, N.H.---FIRST® (For Inspiration and Recognition of Science and Technology), a not-for-profit organization founded by inventor Dean Kamen to inspire young peoples interest and participation in science and technology, officially launched a 2014-2015 Rookie Grant Program available for new, or "Rookie," FIRST® Tech Challenge (FTC®) teams in North America to cover the cost of registration at $275 per team.

The FTC Rookie Grant Program is projected to cover registrations for more than 700 new FTC teams.
The FTC Rookie Grant Program is available to new teams participating in the upcoming 2014-2015 FTC season which kicks off on September 6, 2014 with the announcement of a new game.
"The growth of FIRST Tech Challenge means that more students have the chance to participate in the fun, challenging, and exciting STEM experiences that our program has to offer," said Ken Johnson, Director of FIRST Tech Challenge. "FIRST and our Sponsors are investing in STEM-learning opportunities for students by offering Rookie Grants to help new teams get started and ultimately support the growth of FTC. Were pleased to be able to offer these educational opportunities to more young people who will undoubtedly shape our future."
FIRST Tech Challenge is a widely-accessible, hands-on robotics program for students in grades 7 through 12 that promotes project-based learning. Teams compete head to head using a sports model, and are responsible for designing building, and programming their robots. Teams, including adult Mentors, are required to develop competitive strategy and build robots based on sound engineering principles.
Like all other FIRST programs, the FIRST Tech Challenge is about more than just robots. Awards are given for the competition as well as for community outreach, design, and other real-world accomplishments. Through their participation, student team members develop problem-solving, organization, and team-building skills, among other valuable life skills.
First-time FTC teams in North America are eligible to apply for a Rookie Grant (link to application: https://usfirst.submittable.com/submit/d96875b5-cf8b-4c07-94d7-ec885baee35e); all grants are limited and awarded through a need-based first come, first served application process.
About FIRST®
Accomplished inventor Dean Kamen founded FIRST® (For Inspiration and Recognition of Science and Technology) in 1989 to inspire an appreciation of science and technology in young people. Based in Manchester, N.H., FIRST designs accessible, innovative programs to build self-confidence, knowledge, and life skills while motivating young people to pursue opportunities in science, technology, and engineering. With support from over 200 of the Fortune 500 companies and more than $20 million in college scholarships, the not-for-profit organization hosts the FIRST® Robotics Competition (FRC® ) for students in Grades 9-12; FIRST® Tech Challenge (FTC® ) for Grades 7-12; FIRST® LEGO® League (FLL® ) for Grades 4-8; and Junior FIRST® LEGO® League (Jr.FLL®) for Grades K-3. Gracious Professionalism® is a way of doing things that encourages high-quality work, emphasizes the value of others, and respects individuals and the community. To learn more about FIRST, go to www.usfirst.org.
Featured Product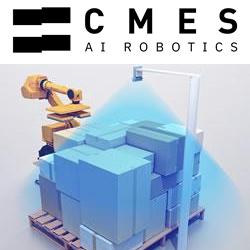 Powered by AI, CMES Robotics enables 3D vision for factory robots. CMES AI vision software enables robots to recognize unstructured, flexible, or deformed objects, pick them up, and loading and unloading. CMES Vision software has been deployed worldwide for random palletization and depalletization along with void filling applications. CMES Robotics automates your warehouse, logistics, and supply chain. For more information, please visit: cmesrobotics.com or email info@cmesrobotics.com.