UBM Canon trade event to bring thousands to Chicago area in October
SANTA MONICA, Calif., June 26, 2014 - UBM Canon's long-running Midwest manufacturing event will take place October 15-16, 2014, at the Schaumburg Convention Center in Schaumburg, IL. With four co-located trade shows, the event will bring thousands of exhibitors and attendees to the area. A slate of technology conferences will run in conjunction with the events, which include: ATX Midwest (formerly known as Assembly & Automation Technology Expo), Design & Manufacturing Midwest, MD&M Chicago (medical design & development), and PLASTEC Midwest.

The all-new conferences include a day-long 3D printing conference, which will present case studies, innovations in materials, and the economics of the use of this technology. A full day conference on Industrial M2M will investigate how this disruptive technology of machines communicating with one another is enabling greater flexibility, efficiency, and connectivity of information. It will also deal with how to tackle the challenges that arise, such as security.
In addition, there will be in depth two-hour sessions on robotics applications, design innovation and ideation, and lean manufacturing.
Medical device design professionals will also find additional educational opportunities at the MD&M Chicago conference, which will focus on specific issues and technical training for the medtech industry. New this year is a full day devoted to the "Connected Digital Health."
About UBM Canon
UBM Canon is the leading B-to-B event producer, publisher, and digital media company for the world's $3 trillion advanced, technology-based manufacturing industry. Our print and electronic products deliver trusted information to the advanced manufacturing market and leverage our proprietary 1.3 million name database to connect suppliers with buyers and purchase influencers. We produce more than 50 events and conferences in a dozen countries, connecting manufacturing professionals from around the globe. UBM Canon is part of UBM plc (UBM.L) a global provider of media and information services for professional B-to-B communities and markets.
About UBM plc
UBM plc is a global events-led marketing services and communications company. We help businesses do business, bringing the world's buyers and sellers together at events and online, as well as producing and distributing news and specialist content. Our 5,500 staff in more than 30 countries are organized into expert teams which serve commercial and professional communities, helping them to do business and their markets to work effectively and efficiently.
For more information, go to www.ubm.com; follow us on Twitter at @UBM_plc to get the latest UBM corporate news; follow @UBM for news and updates from across the businesses and selected members of UBM's Twitterati.
Featured Product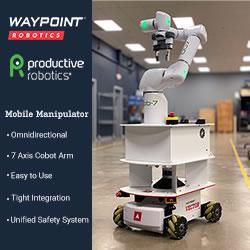 Waypoint Robotics/Productive Robotics omnidirectional 7 DoF mobile manipulator combines the easiest to use, most capable omnidirectional autonomous mobile robot with the simplest and most flexible 7 axis collaborative robot arm. The Vector AMR's omnidirectional mobility enables fast, precise docking in any direction or orientation so the OB7 can perform accurate and precise grasping or picking tasks, taking full advantage of the cobots' 7 degrees of freedom (7 DoF) and superior dexterity. It can be powered using Waypoint's EnZone wireless charger that provides on-demand energy and opportunity charging for longer run times. Workers can use this mobile platform to perform repetitive tasks such as machine tending, quality assurance sampling, material replenishment, packaging, and many others, so they can focus on the high skilled jobs for which they are uniquely qualified. It has never been easier or more cost effective to deploy a mobile manipulator for manufacturing and logistics applications.