The ASD current sensing contact switch is the ideal sensor for simplicity, easy installation, and reliability.
SAN JOSE, CA - NK Technologies new ASD Series Current Sensing Switches provide a limit alarm contact with the easiest adjustment method ever designed. These current sensing switches feature a single turn potentiometer, allowing the trip point to be set before the sensor is installed or before the monitored circuit is energized. In conjunction, the ASD features an LED display for quick visual indication of where the contact changes, making the ASD the easiest and most accurate setpoint adjustment available. This easily adjustable and precise setpoint simplifies and expedites startup and improves safety by allowing trip point adjustment, with no power through the sensing window.

Compared to alternative technologies, the ASD current sensing contact switch is the ideal sensor for simplicity, easy installation, and reliability. Common ASD sensor applications for monitoring, detection and control include: conveyor system jam, overload, multiple section interlock integrity; pump system loss of head pressure (open discharge line, pump runs dry, etc.); cooling towers and similar fan handling systems (over- and under-current conditions caused by open duct access door, broken drive belt or coupling, etc.).
ASD sensors are compatible with most automation systems. They provide either N.O. or N.C. magnetically-isolated solid-state output switching for control circuits up to 240 VAC (1.0 amp max). Units are offered with a choice of 0-10 or 0-200 analog setpoint ranges. All units are equipped with an external 24 VAC/VDC power supply for higher accuracy performance with just <2 VA consumption. ASD sensors have a UL94 VO flammability rated case. Operating temperatures are -4 to 122°F (-20 to 50°C) with 0-95% RH, noncondensing. All ASD units are designed for UL, CUL and CE Approval.
NK Technologies offers no-cost test and evaluation units to qualifying OEMs. Visit the Engineering Resources section of NK Technologies website for access to numerous application notes and a technology white paper on current sensing technology.
ABOUT NK TECHNOLOGIES
Founded in 1982, NK Technologies designed the first the low-cost solid-state current sensing technology that underlies the industry today.
Today NK Technologies is a leading provider of current sensing, ground fault detection and power monitoring products to the industrial and factory automation markets, with a product portfolio that includes more than 1300 models to satisfy a wide range of specific application needs. As the needs of these markets change, NK Technologies is well-positioned to respond with sophisticated new product designs and improved product functionality necessary to meet those applications.
NK Technologies, 3511 Charter Park Drive, San Jose, CA 95136; 800.959.4014; fax: 408.871.7515 sales@nktechnologies.com; www.nktechnologies.com.
Featured Product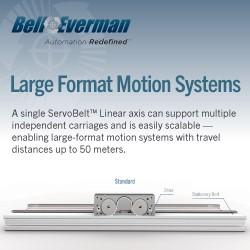 Manufacturing and packaging operations that still depend on manual material or parts handling operations can reap immediate benefits from a type of automation based on long-travel Cartesian robots with custom end-of-arm tooling (EOAT) and advanced sensing capabilities. These robots can support a variety of machines - performing otherwise manual tasks such as machine tending or transferring in-process parts - making long-travel Cartesian transfer robots a major upgrade to processes and operations. Download the White Paper from Bell-Everman