Advantech (2395.TW), a global embedded computing leader who provides embedded and intelligent platform solutions across multiple vertical markets, has just released the AIIS-1240 & AIIS-1440, new PoE and USB3 camera controllers for vision inspection.
AIIS, abbreviated from Advantech Intelligent Inspection System, is Advantech's newest dedicated solution aiming automated optical inspection (AOI), including packaging inspection, label inspection, wafer inspection, alignment inspection, and other applications rely heavily on machine vision. These self-contained PoE and USB3 controllers featured performance computing with Power over Ethernet (PoE)/USB3.0, a rich I/O interface, plus extended product longevity, all in a compact form factor. These PoE boxes use the latest, 3rd generation, Intel® CoreTM processors to deliver improved computing power and graphics performance. Already fully verified and certified, they offer system integrators a no-nonsense solution.

Power-over-Ethernet Capability
AIIS-1240 utilizes a single RJ45 cable that carries both data and electrical power. Compliant with IEEE 802.3af, it can provide a maximum of 15.4 watts of power to each powered device at up to a distance of 100 meters, whereas USB2.0 can only provide up to 2.5 watts, with a maximum cable length of 5 meters. Also, the Intel® i210 LAN controller in this AIIS-1240 features IEEE 1588 Precision Time Protocol (PTP). PTP allows for synchronizing clocks distributed on a network. In a vision inspection application, this permits synchronizing frames from two or more PoE cameras. Also, the AIIS-1240 is compatible with the GigE Vision cameras that are already widely adopted in industrial vision applications.
Maximize the USB3 bandwidth
AIIS-1440 is equipped with a dedicated USB3 controller on each vision channel to make sure the significant bandwidth and a single USB cable can carry both data and electrical power. Compliant with USB 3.0 SuperSpeed, it is capable of transferring data at up to 5 Gbps, whereas USB 2.0 can only provide up to 480 Mbps. This higher bandwidth supports a camera with 4,608 x 3,288 pixel resolution at 10 frames per second. The AIIS-1440 is also compatible with USB3 vision cameras.
Rich I/O interface
AIIS-1240 and AIIS-1440 offer rich I/O interfaces, including four PoE, or four USB3 vision channels, respectively, plus 40-bit digital I/O, four USB3.0, four USB2.0, and six serial ports. Four USB3.0 ports provide a high performance data transfer rate up to 5Gbps. The two serial ports on the front panel can be configured as RS-232, RS-422 or RS-485 via BIOS setting. These interfaces can support a number of various peripheral devices.
AIIS-1240 and AIIS-1440 provide 2.25KV isolation on the digital I/O interface to ensure that it is protected against short circuits, so the system is protected against adverse power events.
Powerful Desktop Core™ i CPU
AIIS-1240 and AIIS-1440 support the latest, third-generation CoreTM i7/i5/i3 processors, which provide enhanced CPU performance and up to 50% improved graphics when compared to the previous generation CoreTM i7/i5/i3 processors. Desktop type CPUs always deliver better performance than mobile CPUs.
Simple, Space Saving Integration
Compact, turnkey design puts the AIIS-1240 and AIIS-1440 PoE and USB3 Boxes ahead of the pack. With a powerful CPU and built-in PoE/USB3 channels, these units occupy a space barely over three liters, which saves on space and makes installation economical and easy—perfect for vision inspection applications. Cable routing is tidy, too.
Long-term Support
Advantech guarantees that model AIIS-1240 and AIIS-1440 will be supported and supplied for at least seven years after introduction. So when there isaneed for expansion, or in the case of product loss or damage, customers can be assured that these dependable products and upgrade paths will be supported and available for the long run. The AIIS-1240 and AIIS-1440 are available now; please contact your local sales representative or visit the Advantech website today.
AIIS-1240
Intel® 3rd/2nd-generation Core™ i7i5/i3 CPU (LGA1155)
*4-CH USB 3.0 with dedicated controller
*Each channel compliant with SuperSpeed data rate(5 Gbps)
*Verified with USB3 camera
*2.5KV digital I/O isolation
*One internal, locking, USB Type-A port; max. clearance: 49mm
*Dimensions: (W x H x D): 232 x 70 x 175 mm
http://origin.advantech.com.tw/
Featured Product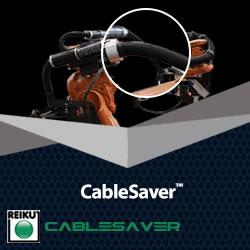 REIKU's Cable Saver™ Solution eliminates downtime, loss of revenue, expensive cable and hose replacement costs, maintenance labour costs. It's available in three sizes 36, 52 and 70 mm. All of the robots cables and hoses are protected when routed through the Cable Saver™ corrugated tubing. The Cable Saver™ uses a spring retraction system housed inside the Energy Tube™ to keep this service loop out of harms way in safe location at the rear of the Robot when not required. The Cable Saver™ is a COMPLETE solution for any make or model of robot. It installs quickly-on either side of the robot and has been tested to resist over 15 million repetitive cycles.