piPUMP™ MICRO is truly easy-to-buy and easy-to-mount and use.
Hingham, MA --- Piab, a leading supplier of industrial vacuum technology, offers its patented COAX® technology in a new small sized ejector called piPUMP™ MICRO. COAX® is the most energy efficient ejector technology based on a multi-stage concept for creating vacuum with compressed air.

piPUMP™ MICRO is truly easy-to-buy and easy-to-mount and use. A handy configurator tool on Piabs website, www.piab.com, allows the user to select the vacuum characteristics along with a few options for filtration and connections.
The piPUMP™ can be used for small centralized systems but perhaps even more suitable for semi-decentralized systems, i.e., a few units creating vacuum supporting a few small cups each. Thanks to very low weight and small dimension it can also be used as a fully decentralized ejector on a Delta robot for example.
The small footprint of the unit provides flexibility in mounting and use. Installation is a breeze with push-in connections and a common feed for compressed air, regardless of the number of units chosen. The central exhaust allows the exhaust to be drawn away in clean room environments.
Because COAX® Cartridges are up to twice as fast as other cartridges and provide three times more flow than a conventional ejector with the same air consumption; the piPUMP™ MICRO is able to provide a high performance even at low or fluctuating feed pressures (14-87 psi). Additionally, piPUMP™ MICRO vacuum units begin producing vacuum immediately when the pressure valve is turned on, making maximum use of the compressed air and consuming significantly less energy than traditional vacuum pumps.
About Piab
Established in 1951, Piab designs innovative vacuum solutions that improve the energy-efficiency, productivity, and working environments of vacuum users around the world. As a reliable partner to many of the worlds largest manufacturers, Piab develops and manufactures a complete line of vacuum pumps, vacuum accessories, vacuum conveyors and suction cups for a variety of automated material handling and factory automation processes. Piab utilizes COAX®, a completely new dimension in vacuum technology, in many of its original products and solutions. COAX® cartridges are smaller, more energy efficient and more reliable than conventional ejectors, and can be integrated directly into machinery. This allows for the design of a flexible, modular vacuum system. Piab is a worldwide organization with subsidiaries and distributors in more than 50 countries. Its headquarters are in Sweden. For more information about Piab vacuum solutions for a diverse range of applications, visit www.piab.com.
Featured Product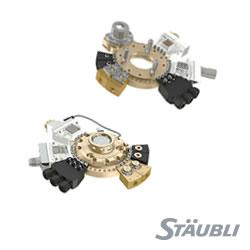 Stäubli is a pioneer in the construction and development of robotic tool changing systems. Our customers benefit from our many years of expertise in all industry sectors, as well as our modular product concept, which offers three efficient solution paths: MPS COMPLETE offers preconfigured robotic tool changers for immediate use. MPS MODULAR allows the user to determine the configuration, while MPS CUSTOMIZED allows the construction of special, application-specific systems.