Sinclair Community College in Dayton, Ohio, has logged a 90 percent increase in UAS flights in May and June.
FOR IMMEDIATE RELEASE

Contact: Ryan Honeyman, Strategic Communications Coordinator
Sinclair Community College Workforce Development
Ryan.honeyman@sinclair.edu - 937.512.5743
Sinclair UAS Training and Certification Center Logs Record Number of Flight Operations
Dayton, June 30, 2014 -- The skies over Wilmington Air Park have been buzzing with activity as Sinclair's UAS Training and Certification Center completed nearly 70 unmanned aerial systems (UAS) flights over the months of May and June. The flights represent an almost 90 percent increase in Sinclair UAS flight operations at the facility over the same two-month period in 2013.
In 2013, Sinclair conducted nearly 100 UAS flights at Wilmington and the Springfield-Beckley Municipal Airport, the most of any entity in Ohio. The college holds the necessary Certificates of Authorization (COA) from the Federal Aviation Administration (FAA) required to fly UAS in the national airspace at both locations. So far in 2014, Sinclair has flown almost 90 times already, with additional flights planned throughout the remainder of the year.
"These flights are an exciting step forward for Sinclair since we first received approval to fly," said Deb Norris, Vice President for Sinclair Workforce Development. "By adding new UAS to our fleet and certifying additional flight teams, we're able to increase and expand our programs and develop more opportunities to bring this technology to the Dayton region."
During the current flight operations, Sinclair certified three new crew members on its Altavian Nova Block III vehicle. The added support to the college's flight crew is a welcome resource for the UAS Training and Certification Center, as the program has already scheduled additional flight operations over the next three months using the Altavian UAS.
"The three crew members who successfully completed the course in May will have a significant impact on Sinclair's capabilities to support scheduled flight operations for the Nova Block III over the summer as we continue to grow the UAS program," said Dr. Andrew Shepherd, Director of UAS at Sinclair. "The operations were completed at the end of May and the three new crew members were endorsed by a representative from Altavian after each completed a check flight demonstrating their proficiency."
A national leader in emerging UAS technologies and training, Sinclair's UAS curriculum focuses on practical real-world applications of current and emerging non-military UAS vehicle and sensor technologies using classroom and online instruction, leading-edge simulation and hands-on vehicle operations.
###
Featured Product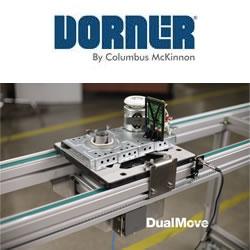 Dorner's 2200 Series Precision Move Pallet Systems are ideal for assembly automation. With features such as an innovative timing belt conveyor design and industry best pallet transfers, they get your product to the exact location, at the exact time and in the exact position it needs to be. They are now available with new options such as heavy load corner modules with 150 lb. capacity and 180 degree tight transfer corners for compact loops.