Desserve Engineering Solutions are providing a Design and Simulation support to develop a Robotic Arm for fire fighting purposes.
Fire fighting requires super human skills to tackle. One of the companies in the US believed this and so they started to explore the market of using a robot in firefighting industry.

To develop the robotic arm, they approached Desserve Engineering Solutions- an India based company involved into providing complete solutions from Design to prototype. Our services includes FEA,CFD, Rapid prototyping etc. Desserve Engineering Solutions explored about the specifications required by the client and designed the robotic arm with the basic robotics design parameters such as pitch,roll, yaw and optimized for Work volume of the robot. We used high end CAD and animation software to simulate for the work volume of the robotic arm during operation. We carried out FEA Analysis for the arm component in order to find out whether they will sustain the loads at elevated temperatures or not.
Featured Product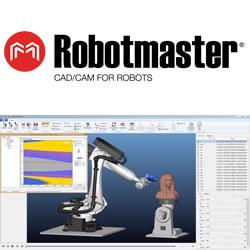 Robotmaster V6 provides a unique integration of user control, speed and flexibility to Robotmaster's renowned automation and optimization tools. The new and intuitive V6 interface elevates Robotmaster to an unprecedented standard of user experience by giving robot programmers a coherent and dynamic tool that radically saves time and money.