The MotionBLITZ LTR product family optimizes processes
(Germany, Unterschleissheim, 01.07.2014) High-speed video has now established itself in almost all industries as an important tool for precisely identifying error sources in processes and eliminating them. However, up to now the recordings that facilitate this comprehensive process analysis have been limited to just a few seconds at a time. Long-time recording of high-speed videos overcome this limitation. This technology makes it possible to seamlessly analyze long-running processes at high speeds and eliminate error sources.

With the new MotionBLITZ LTR3.0 and MotionBLITZ LTR4.0 portable long-time recording (LTR) systems, users from all industries can gain new insights in production and research via long-time recordings. A variety of applications using the predecessor LTR models in a variety of industries demonstrate the superior benefits and quick pay-offs you can expect from this investment. The new systems from Mikrotron combine the high-resolution camera with extremely high frame rates. Due to the very fast data transfer via the CoaXPress interface, recording times of up to 60 minutes are possible, even at high frame rates. This enables you to precisely record each moment of a process in detail and gain important insights by analyzing the footage using the playback function.
The small-sized cameras with 3 or 4 megapixel image resolution can be installed directly where they are needed in confined spaces and the data is recorded in real time. In Full-HD format, the system provides a frame rate of up to 900 frames per second and up to 35,000 frames per second at reduced resolution. The communication, camera control and power supply are controlled from up to 10 meters away via a single coax cable. If you use a fiber optic module, distances of up to 140 meters are possible. Together with the very easy-to-use MotionBLITZ Director2 control and user interface, this makes the application highly flexible and efficient.
In industry, for example, an error that has occurred in the production process is often only recognizable at a later stage in the production chain. Long-time recording means that after the trigger - the moment when the error is detected - the long-term recording can be rewound to the point where the error arose and so the relevant period can be analyzed in peace. A further advantage is that long-term recording means the employee no longer needs to be permanently present at each production line requiring monitoring. Thus, production lines and processes can be continuously monitored over long periods and errors and events can also be precisely identified subsequently. Applications include sports analysis, industry, aeronautics, kinematics, exercise and behavioral studies in animals and humans, the military, and many more areas in research and development.
Featured Product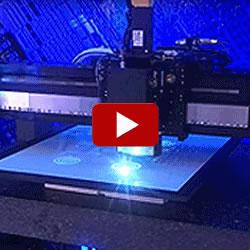 A traditional gantry system employs X-Y or X-Y-Z range of motion. Mounted on a base plate, usually granite, 2 parallel rails constitute the synchronized Y axis motion while the cross axis (bridge axis) provides the X motion. A vertical axis can be added on the bridge for the Z motion. A Split Bridge system can be less complex than a traditional gantry system because synchronization of the two parallel linear motors is not required. Both systems are used in industrial production, testing, and additive manufacturing.