Searching for a vacant parking spot right before your flight – and even memorizing your cars exact parking location - has become a thing of the past thanks to a new intelligent automated system that parks passengers cars at Düsseldorf Airport (DUS). Called "Ray," the parking robot has its world premiere at DUS and is a technical innovation and another huge step into a future in which travel is less stressful and time-consuming.
Düsseldorf, Germany July 02, 2014

Düsseldorf Airport is also called the airport of short distances -- due to all its gates being in one building for easy connections -- and a brand new parking robot by the name of Ray now makes the distances between planes and passengers vehicles even shorter. Travelers at DUS can now leave their cars near the airport terminal and a robot handles parking for them. Düsseldorf Airport is the worlds first airport to employ an intelligent robot parking system for vehicle drop off and pick up, and the system was officially put into operation on June 23, 2014.
The objective is to take the hassle out of air travel and trips to the airport, and thanks to Ray, parking has become childs play for passengers, who can reserve an individual parking spot before the trip via an online booking system (parken.dus.com) and download the app when using the system for the first time ("DUS PremiumPLUS-Parking" available for OS and Android).
On site, customers drive to the arrival level and the special parking area at car park P3 and leave their car in one of the six transfer boxes. Prior to leaving the garage on the way to the nearby terminal, the driver uses a touch-screen to confirm no passengers are left in the car, indicate when they want to pick the car up, and whether they are travelling with carry-on or checked luggage. The subsequent parking is done by robot Ray, which measures the vehicle and gently parks it in a rear part of the building.
Ray is connected to the airports flight data system, and by matching the stored return trip data with the airports current database, Ray knows when the customer will come for the vehicle. The vehicle is then deposited in one of the transfer boxes on time. If an itinerary changes, the traveler can easily and quickly communicate the changes to the system via the app.
"The new PremiumPLUS Offer expands our broad range of parking services by another innovative and customer-oriented segment," says Thomas Schnalke, the airports Managing Director. "Our product is especially appealing s to busines travelers, who arrive at the airport shortly before the flight, seek efficient parking, and return within a few days. Our product is ideal for them." The system is produced by serva tansport in the Bavarian town of Grabenstätt and employed by SITA Airport IT GmbH, a joint venture of Düsseldorf Airport and SITA, a worldwide provider of air transportation industry ICT.
During the first phase, there are 249 available parking spots. The introductory rate until the end of the year for the airports "PremiumPLUS" parking offer is 29 Euro per day and 4 Euro per hour. If customers adapt the technology, DUS will consider expanding the system, since it is easy to integrate into existing parking structures.
In League with New York, London, Paris and More
Adding to Düsseldorfs appeal, several US & Canadian cities (Atlanta, Chicago, Ft. Myers, Los Angeles, Miami, New York, Newark, Toronto) offer non-stop flights. Passengers who continue their journeys can choose from numerous convenient connections to Berlin, Munich, Frankfurt, Hamburg and many other German and European cities. Throughout the year, 70 airlines serve 190 destinations worldwide - among them 125 European destinations. Another major advantage of the airport is its layout. With all gates in one terminal building, Düsseldorf Airport is the "airport of short distances" - guaranteeing minimum connection times of 35 minutes.
The airport is at the center of the Rhine Ruhr area, a bustling network of 53 connected cities and 18 million residents within 40 miles. It is the EUs third largest market in volume and spending and equal to major metropolitan regions like New York, London and Paris. 500,000 companies are located in the area, including 5,000 offices of foreign corporations, the majority from the Netherlands, Japan and the USA. Many major international industry players, including Fujifilm Europe, Nokia Siemens, Novell, Ericsson, Deloitte & Touche, McKinsey, and Toshiba, are headquartered in Düsseldorf, which is a first-rate location for high-tech concerns. International presence and fast accessibility - guaranteed by DUS being one of Germanys major hubs - make the location highly attractive.
Düsseldorf and North Rhine-Westphalia, ranked 17 in GDP among the worlds major industrial centers, are also home to some of the most significant exhibitions and trade shows in the world. Of the 50 annual events at Düsseldorfs Exhibition Center, 23 lead their industry worldwide, for example, printing technology ("drupa"), plastics and rubber ("K"), medicine ("MEDICA" and "REHACARE INTERNATIONAL"), leisure time ("boot") or packaging ("interpack"). For more information on Düsseldorf Airport, visit http://www.dus.com.
Featured Product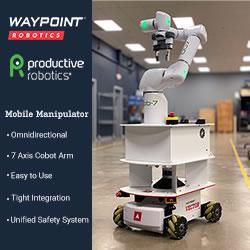 Waypoint Robotics/Productive Robotics omnidirectional 7 DoF mobile manipulator combines the easiest to use, most capable omnidirectional autonomous mobile robot with the simplest and most flexible 7 axis collaborative robot arm. The Vector AMR's omnidirectional mobility enables fast, precise docking in any direction or orientation so the OB7 can perform accurate and precise grasping or picking tasks, taking full advantage of the cobots' 7 degrees of freedom (7 DoF) and superior dexterity. It can be powered using Waypoint's EnZone wireless charger that provides on-demand energy and opportunity charging for longer run times. Workers can use this mobile platform to perform repetitive tasks such as machine tending, quality assurance sampling, material replenishment, packaging, and many others, so they can focus on the high skilled jobs for which they are uniquely qualified. It has never been easier or more cost effective to deploy a mobile manipulator for manufacturing and logistics applications.