PC-based GUI Control Panel Eases Design & Debug for Robotics, Lab Automation and Other Motion Control Applications
HAMBURG, Germany--TRINAMIC Motion Control, a leading global developer of motor and motion control technologies, announced immediate availability of the TMCM-1043-KIT development system. Designed for TRINAMICs highly integrated, NEMA 17-compatible TMCM-1043 stepDancer™ stepper motor module, the new development kit offers designers an easy-to-use PC-based GUI that allows one-click modification of motor drive current, micro-stepping and other key parameters.

"Stepper motors offer comparatively high torque at low speed, which allows for omission of gearboxes and enables reliability as well as precision at low cost -- that's why they are so popular, especially in high growth markets like lab automation, medical technology and 3D printing," said Michael Randt, TRINAMIC CEO and founder. "Product profitability for all of these industries depends on rapid time-to-market, and our new stepDancer motor development system enables designers to quickly setup, evaluate and implement motion control solutions on our most popular motor drive board."
The new intuitive kit is custom designed for use with TRINAMICs highly integrated and fully proven TMCM-1043 electronic assembly, which is developed for direct mounting on a NEMA 17 motor. Pre-programmed and pre-configured with all operating parameters to support standard 1.5A (peak) motors, the TMCM-1043 board uses Trinamic's single-axis TMC2660 stepper motor driver IC, which integrates a motor pre-driver and power MOSFETs. Controlled by industry standard step/direction pulses, the TMCM-1043 module automatically performs all motor coil current calculations, while driving an external NEMA 17 motor with the industrys lowest RDS(on) MOSFETs, resulting in minimal power dissipation.
While the TMCM-1043 module is designed for off-the-shelf use, the new development kit enables engineers to quickly optimize their designs through modification of key parameters. For example, a wider range of motor capabilities can be accommodated by modifying current specifications; legacy software can easily be re-used by modifying the number of micro-steps per full rotation; and motor holding torque can be optimized by modifying standby current.
Stepper motors are cost-effective solutions for applications that require high-torque at low speeds and precise control of motor axis rotation. Widely used in printers, scanners, robotics, lab automation and other applications, TRINAMIC estimates that more than one billion stepper motors are shipped ever year. NEMA 17 is the most popular stepper motor size, accounting for more than 50% of the total hybrid-stepper market.
The TMCM-1043-KIT is a turnkey solution with PC control software, programming adaptor, power supply, three TMCM-1043 modules and a NEMA 17 frame test motor -- priced at less than USD 300.
TMCM-1043 modules are currently available in production quantities. The recommended resale price between 1 and 1000 pieces is in the range of USD 30 to USD 40.
About TRINAMIC
Based in Hamburg, Germany, privately-held TRINAMIC Motion Control GmbH & Co. KG is a recognized global leader in motor and motion control technologies. Leveraging its extensive portfolio of internally developed IP, TRINAMIC motor control products emphasize efficiency, quality and ease-of-use.
The company sells ICs, modules and integrated mechatronics to market leading manufacturers worldwide. The companys products have been integrated into a wide range of applications in biotechnology, lab automation, materials handling, CCTV and factory automation. More information about TRINAMIC can be obtained on the company website: http://www.trinamic.com.
Featured Product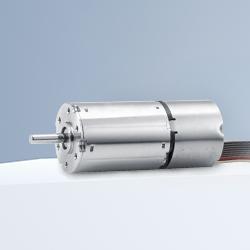 The FAULHABER Linear Actuator L series are designed to provide high performances in compact dimensions, these actuators can support large input speed, high output force and are suited for a wide range of applications like robotics, industrial machines and laboratory equipment.