Heriot-Watt's Professor David Lane joined Universities and Science Minister David Willets and other colleagues to launch a UK strategy for stimulating growth in robotics and autonomous systems (RAS).
The strategy calls for action to improve the business prospects of the nation's world-leading technical capabilities, in light of mounting competition from countries such as Japan, Korea and the United States.

Current estimates indicate that the market for RAS products and technology, in non-military sectors, will be in the order of £70Bn by 2025.
An engine of growth
A key recommendation of the strategy is to develop existing UK assets, such as decommissioned nuclear sites, farms, factories, mines and whole towns, for use as valuable robotics test beds. For example, identifying farm sites to test the deployment of autonomous crop management systems, and equipping mobility-friendly towns to safely test driverless cars on real roads. Combined with a flexible regulatory framework, this would present a unique opportunity to attract robotics developers and investors from around the world.
David Willetts said, "Robots have often been positioned as a thing of the future, but this strategy launch emphasises the fact that they are very much of the here and now. Technologies that have traditionally been the preserve of science fiction are becoming increasingly commonplace, from robotic limbs through to driverless cars.
"Britain has a wealth of expertise in robotics and autonomous systems that is why it has been identified as one of our eight great technologies. This strategy provides an ambitious guide for how the UK can build the foundations for a thriving robotics industry that can become an engine of growth."
Professor Lane, Professor of Autonomous Systems Engineering at Heriot-Watt's Ocean Systems Laboratory, speaking in his capacity as Chair of the Robotics and Autonomous Systems special Interest Group, said, "The UK is a substantial contributor to some of the world's best research in the field of robotics and autonomous systems, but countries such as Japan, Korea and the USA have had greater success in developing companies to exploit those opportunities. We need to provide a business environment in the UK that is geared towards helping robotic and autonomous technologies out of the lab and into the marketplace.
"The UK has an exceptional heritage in many of the industries where robotics can be most useful, and our world-leading research base makes us ideally placed to exploit the opportunities arising in these fields, but we need to act quickly if we don't want to be left behind. With the right course of action, we believe the UK could achieve 10% of the global market share by 2025."
For further information on the new strategy visit:http://tinyurl.com/tsbrassig
Featured Product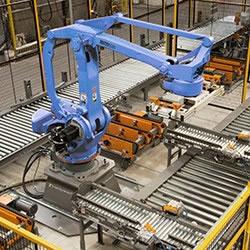 Honeywell Intelligrated has deep experience implementing robotic solutions that work seamlessly with existing automated equipment and is recognized by the Robotic Industries Association as a certified robot integrator. The company's extensive robotic integration capabilities include solution development, design engineering and project management, complete manufacturing capabilities, installation and commissioning, and lifecycle support services.