Automate 2015 show and conference in Chicago, March 23-26, 2015
(Ann Arbor, Michigan, USA - July 7, 2014) Speakers are now being sought for the Automate 2015 show and conference in Chicago, March 23-26, 2015, according to the Association for Advancing Automation (A3), the primary sponsor of the Automate 2015 event.

"Were looking for experts in robotics, vision, motion control, assembly automation, sensors, test and measurement, systems integration and related areas to help educate our audience with practical information that addresses their specific challenges," said Jeff Burnstein, President of A3. Burnstein said that as many as 30,000 automation users, suppliers and integrators are expected at Automate 2015, which is collocated with ProMat, North Americas premier material handling, supply chain and logistics event.
"Automate 2015 attendees are looking for solutions on how to successfully automate their operations," said Burnstein. "Many of these people come from small and medium sized companies, some of whom have yet to start automating. They need to know why they should automate as well as how and they need to know who can help them get started or improve upon what theyve already started doing," he explained.
"Automate 2015 will feature exhibits from more than 150 leading automation suppliers and system integrators. Building on our the success of a new way to reach attendees introduced at Automate 2013, the 2015 show will again feature "Expert Huddles" in various locations on the show floor. These small discussion groups will be held throughout all four days of the show and free of charge to attendees. The expert huddles will be just that, discussions, led by an expert, not formal presentations. This will really be useful to attendees who know exactly what they are coming to learn," Burnstein said. Automate 2015 exhibiting companies can position themselves as an industry leader and a resource for automation expertise by leading a Huddle. Click here to propose a topic and request to coach (lead) a Huddle. The deadline to submit a topic is July 18, 2014.
The conference goes more in-depth on key topics in order to expose attendees to a broad range of issues that are critical to developing a successful automation solution. Among the expected topics are how to work with system integrators, the fundamentals of robotics and vision, selecting the correct end-of-arm tooling for your application, robot safety, 3-D vision solutions, non-visible imaging solutions, high speed motion systems, new developments in step motors, and case studies of successful automation solutions. Abstracts for non-commercial conference presentations can be submitted here. The deadline to submit an abstract is July 18, 2014.
About the Organizer
Automate is organized by the Association for Advancing Automation, the global advocate for the benefits of automating. A3 promotes automation technologies and ideas that transform the way business is done. A3 is the umbrella group for Robotic Industries Association (RIA), AIA - Advancing Vision + Imaging, and Motion Control Association (MCA). RIA, AIA, and MCA combined represent 750 automation manufacturers, component suppliers, system integrators, end users, research groups and consulting firms from throughout the world that drive automation forward.
For more information, please visit our websites: A3; RIA; AIA; MCA. Automate Show and Conference information can be found here. To reach Association Headquarters, call 734-994-6088.
Featured Product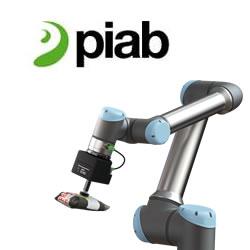 Piab's Kenos KCS gripper enables a collaborative robot to handle just about anything at any time. Combining Piab's proprietary air-driven COAX vacuum technology with an easily replaceable technical foam that molds itself around any surface or shape, the gripper can be used to safely grip, lift and handle any object. Standard interface (ISO) adapters enable the whole unit to be attached to any cobot type on the market with a body made in a lightweight 3D printed material. Approved by Universal Robots as a UR+ end effector.