DNC Electronics Ltd has just announced price cuts to a number of its products, while at the same time highlighting the benefits of its services to both new and existing customers in the CNC machine tools industry fitted with Fanuc controls, drives and motors.
July 9, 2014

Specifically, the price changes are released for Fanuc drives, Fanuc power supplies and Fanuc monitors, all of which DNC has extensively in stock, all under a single virtual roof. In all, the firm has access to several thousand parts from automation services and products group Fanuc, one of the worlds biggest makers of industrial robots.
Alongside the price reductions, the Swindon-based company is highlighting aspects of what it offers, including its UK-wide and Europe exchange service, which reduces customers down time, and repairs, which is clearly cheaper than buying new and makes the life of products as long as possible.
DNC Electronics also offers a testing and diagnosis service where customers are unsure of what is wrong with a product and surplus sales of former stock items, including things like CNC controls.
Testing means an immediate diagnosis of the problem, which can then lead on to an exchange or repair of the time, or the item can be returned.
A spokesperson for the organisation said: "We are absolutely delighted to be able to announce a reduction in price for 300 Fanuc parts, and to be able to showcase the benefits of what we do to future and current clients."
For more information on latest prices, and for more details on the full range of services DNC offers, visit the companys website at http://www.dnc-electronics.co.uk, sales(at)dnc-electronics(dot)com, or phone (01793) 615356.
Further information for journalists:
DNC Electronics has operated as specialists to the CNC machine tools industry for more than two decades, and offers a broad range of CNC-related services for machine tools.
Its key clients are servicing and maintenance engineers, end users from big corporations, makers of machine tools and small, specialist CNC machinists.
Also among its offerings are alpha module and unit services, with repairs generally available within 24 hours, so turnaround is brisk.
In addition, the company offers a CNC parts exchange and repairs service to dozens of countries worldwide, alongside free troubleshooting advice where possible. Same day testing and repair and a 24-hour turnaround are standard and all items come with full warranties.
Featured Product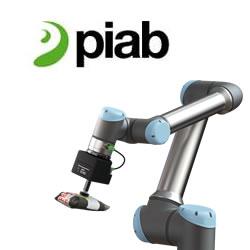 Piab's Kenos KCS gripper enables a collaborative robot to handle just about anything at any time. Combining Piab's proprietary air-driven COAX vacuum technology with an easily replaceable technical foam that molds itself around any surface or shape, the gripper can be used to safely grip, lift and handle any object. Standard interface (ISO) adapters enable the whole unit to be attached to any cobot type on the market with a body made in a lightweight 3D printed material. Approved by Universal Robots as a UR+ end effector.