Digital publication highlights how Italian manufacturers are supporting North American companies with machinery and technology.
DEARBORN, Mich. July 08, 2014

SMEs Manufacturing Engineering Media and the Italian Trade Agency have partnered to produce Volume IX of its digital magazine — Machines Italia. This publication showcases machinery and technology that Italian providers can offer to North American manufacturers, ultimately helping these companies be more successful in the global marketplace.
"Through the articles and news contained in this magazine, we hope that the experiences shared between local companies and their Italian solution providers illustrate to the readers that innovative solutions are readily available to make manufacturing here in North America more successful and competitive," said Matteo Picariello, ITA commissioner in Chicago.
Machines Italia: Volume IX features articles on how advanced manufacturing can fuel the industry of the future, as well as how Italian manufacturers are improving industrial processes in making everyday items that were once imported, but are now locally manufactured. Articles also highlight how Italian machinery firms are enabling North American businesses to be more cost effective through a variety of innovative solutions.
"Recently we conducted an advanced manufacturing survey, and one of the most noteworthy findings was that in the next two years, one in five North American companies plan to invest more in advanced machinery and technology to maintain their competitive edge in the marketplace," said Sarah Webster, editor in chief, Manufacturing Engineering Media. "This issue of Machines Italia shows that Italian providers are offering solutions to many common North American manufacturing needs and issues not addressed elsewhere."
Features in the digital edition of Machines Italia include a detailed map of Italian manufacturing operations throughout North America, multimedia presentations and the advanced manufacturing survey of North American companies conducted by Machines Italia and SME. To view Machine Italia: Volume IX online, click here. And to view the interactive map of Italian subsidiaries with facilities in the NAFTA marketplace that are ready to meet your manufacturing needs, click here.
About the Italian Trade Agency
The Italian Trade Agency is Italys government organization, which promotes the internationalization of Italian companies abroad. In line with the strategies of the Ministry for Economic Development, ITA provides information, support and advice to Italian and foreign companies. In addition to its Rome headquarters, ITA operates worldwide from a large network of Trade Promotion Offices linked to Italian embassies and consulates and working closely with local authorities and businesses. The ITA network in North America is comprised of seven offices in Chicago, Toronto, Mexico City, Atlanta, Los Angeles, Miami and New York City.
ITA provides a wide range of services through these and its other offices overseas helping Italian and foreign businesses to connect with each other.
About Manufacturing Engineering Media
SMEs Manufacturing Engineering Media is the premier source for news and in-depth technical information about advanced manufacturing in North America. It serves an audience of more than 100,000 manufacturing professionals who subscribe to the monthly magazine, iTunes App, e-newsletters and other publications. Coverage is focused on some of the world's most critical industries: aerospace and defense, motorized vehicles, medical and energy, whether that's oil and gas, nuclear, electric, solar or wind. Follow on twitter.com/MfgEngNews or facebook.com/ManufacturingEngineeringMedia.
Featured Product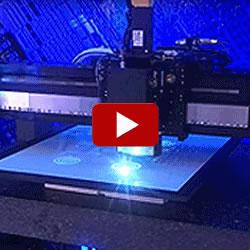 A traditional gantry system employs X-Y or X-Y-Z range of motion. Mounted on a base plate, usually granite, 2 parallel rails constitute the synchronized Y axis motion while the cross axis (bridge axis) provides the X motion. A vertical axis can be added on the bridge for the Z motion. A Split Bridge system can be less complex than a traditional gantry system because synchronization of the two parallel linear motors is not required. Both systems are used in industrial production, testing, and additive manufacturing.