Aldebaran, the World leading humanoid robotics company, opened its first Atelier in Issy les Moulineaux a stone throw from Paris. As a space about discovery, interaction and learning. The Atelier is the very first facility of the brand open to the general public. It is fully dedicated to experimenting with our interactive, scalable and programmable humanoid robots: NAO and Pepper.
This space has been designed for a wide audience, from expert professionals to geek developers as well as for the general public - the young, the families - for those who are curious about robotics or those who already are robotics lovers.

« We believe in a future where sensitive and communicating robots will assist humans in their work, their home, their leisure activities, and their family life. Bruno Maisonnier, Founder and CEO of Aldebaran, points out that « Currently, our robots are exclusively found on the professional market. Our objective is for them to become accessible to the general public and our intention is to create a place where humans and robots can meet. The Atelier, with its « developers » space is also about generating new applications development ideas for our robots as well as paving the way to new business models ».
As of September, the Atelier will offer a programme of special events with meetings, conferences and Ateliers for everyone from novices to experts.
The concept of the Ateliers is to be rolled out around the World as Aldebaran has already announced the forthcoming opening of two Ateliers in Tokyo, in partnership with SoftBank.
The Aldebarans Atelier is distributed into three main spaces over a surface area of 260m2: The Discovery Space, the Learning Space and the Developers Space
The Aldebarans Atelier will be open from Tuesday to Saturday as of July 1st 2014
Open non-stop from 10am to 7pm - 48 Rue Guynemer in Issy-Les-Moulineaux - Free Admission
Access Map
The discovery area is dedicated to the general public. It enables an initial guided introduction to the world of robotics. The available activities are as follows:
*Discovery: First contact with robots Pepper and NAO
*Discovery of dialogue, the autonomous life of robots and more
*Photo Play Space: I was there! Photos to share with all our Atelier visitors across the world
The Learning Space is dedicated to our programming tools and to the applications designed for our robots. It will help you get to grips with or specialise in the programming environment through:
*The Core Apps: in-depth look at the main areas of activity of the robots being developed as well as those to come
*Choreographe and SDK: our programming tools and libraries for novices and experts alike
*The e-Store: a look at the eco system of the apps and their characteristics
The Developer Space is dedicated entirely to our developer community. It is equipped with robots and computers, allowing you to create projects together, exchange and share your experiences. You can also meet our experts to advance your developments and optimise your applications. You can meet the experts at:
*The NAO table
*The Pepper space
Featured Product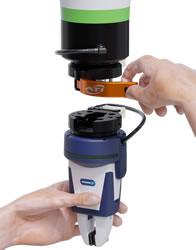 Simpler, stronger, and more precise. ATI Industrial Automation has developed a series of Manual Tool Changers that provides a cost-effective solution for quickly changing tools by hand. They feature a unique design that combines high strength, excellent repeatability, and a patent-pending screw-cam locking mechanism with multiple fail-safe features, which resists vibration and prevents loosening. These robust and compact Manual Tool Changers can handle payloads up to 80 pounds (36 kg) and pass pneumatics and electrical signals.