A combination of 30 speakers, vendor exhibits, technical breakout-training sessions, leading edge demonstrations and AMT engineers and specialists on-site, this is the must-attend automation event of the year.
Orion, MI: AMT Applied Manufacturing Technologies presents, Technology Fair 2014 at the AMT Headquarters Thursday August 21, 2014.Technology Fair 2014 marks 25 years of automation excellence from AMT. To celebrate the occasion we are pulling out all the stops to create the not to miss automation event of the year. At this year's event, we are featuring some of the industry's top expert speakers, vendor exhibits, leading edge automation demonstrations from collaborative robotics to vision based metrology, and technical-breakout sessions.

Have you thought about automating your operation and asked yourself, should I automate? If so, how should I automate? Do you want to see the latest leading edge automation technology live? Need training on the new RIA automation safety standard and how best to comply in 2014? This is the event to get all your automation questions answered under one roof. Come see what the AMT advantage is all about as we feature:
• Top Industry Expert Speakers featuring Erik Nieves of Motoman, Roberta Nelson Shea of Rockwell Automation and Ed Roney of Fanuc Robotics and more
• Featured Vendor Exhibits from Kuka, Fanuc, ATI and more
• Technical Breakout Training Sessions from Shaltz Automation, Empire Robotics and more
• Leading Edge Automation Demonstrations including collaborative robotics, vision based metrology, advanced material handling and 3D bin picking
• Career Opportunities Showcased in the field of robotic automation and engineering
• Friends and Family Invite Event for education in robotics and the advancement of STEM education
• Catered Food and Beverage tent for all guests
• Free Apple iPad mini Giveaway (first 200 to pre register to qualify)
This year's event also features the AMT / ATI Event. Nearby ATI Industrial Automation is hosting their 8th annual tech fair. You can visit their location for more live automation demos and convenient shuttle transportation between locations also provided (two blocks apart). ATI is the leading engineering-based world developer of robotic accessories and robot arm tooling, including Automatic Tool Changers, Manual Tool Changers, Robotic De-burring Tools, and Compliance Devices.
Do not miss out and pre register today at www.appliedmfg.com/technologyfair2014
Where and When: Applied Manufacturing Technologies Headquarters - 219 Kay Industrial Dr. Orion, MI 48359. Thursday August 21, 2014 9am - 5pm Industry / 4pm-7pm Friends and Family event.
AMT is one of the largest independent automation integrators in North America. With over 25 years of automation excellence, we provide complete engineered solutions with talented, experienced engineers and NO product or hardware agenda. This allows us to offer a unique and unbiased automation solution that fits your robotic automation needs no matter the size.
Automation is a Journey and AMT invites you to come Discover the AMT Advantage.
Featured Product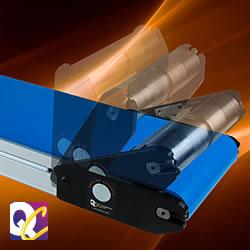 AS40 Conveyors are designed for ease of use and simple integration with robotic applications. Built on a rigid aluminum frame, they feature tee slots for rapid accessory mounting and a tail that flips up at the push of a button for easy under-belt cleaning and belt changes. Nosebar tails are available for transferring small parts between conveyors. All conveyors include a 10 Year Warranty and most are available with a fast five day lead time.