The autonomous aerial camera had passed its original fundraising goal of $50,000 within 24 hours and eight days remain in the campaign
The autonomous aerial drone, HEXO+, broke the $1 million mark on crowdfunding site Kickstarter on July 8, 2014. Launched less than one month ago, the drone has been tagged as "the ultimate GoPro accessory" and has since attracted almost 2,000 backers.

HEXO+ launched its campaign with an original funding goal of $50,000 and has been releasing increasingly advanced features as it meets each stretch goal. With the accomplishment of $1 million, HEXO+s design team announced that the drone would undergo a user-based design upgrade.
"One thing weve been having a blast doing is interacting with the backers and learning more about what they expect HEXO+ to do," HEXO+ designers said. "All of the feedback is a treasure for the project, as it helps us shape our system to backer expectations and eventually deliver a product that will be awesome to use."
Future HEXO+ owners can now expect improved industrial design, user experience and performance, all based on feedback and requests from backers. These new features are added on top of an already extensive features list, including an intuitive directors toolkit, live-view video feedback and easy-to-use setup and framing on a
smartphone.
HEXO+ is an intelligent drone that follows and films you autonomously. Once synced with their smartphones, users can manipulate a live image of the drones point-of-view to adjust the distance and angle of the camera. They can also program elaborate camera movements by dragging and dropping commands onto a timeline such as pan, tilt, crab, dolly, arc and 360°. The camera can be set to perform these movements at either a set amount of time, a certain GPS location or a manual action in the app. Once HEXO+ is launched, the result is a series cinematic shots usually made possible only by cranes, dollies and extensive camera gear. But HEXO+ performs without a single tether to the ground.
Those interested can pre-order HEXO+ today on Kickstarter at http://bit.ly/HEXOKS in exchange for a plethora of rewards - from the DIY Kit to Ready to Fly Kits that come equipped with a GoPro camera and exclusive trips with the HEXO+ team to skate, surf, snowboard or whatever backers choose, there are reward options for everyone. Backers will receive the most basic Ready to Fly Kit with the HEXO+ drone, a 2-axis stabilized camera mount, and the app for $599.
Like HEXO+ on Facebookand follow HEXO+ on Twitter @hexopluslive to stay up to date with campaign updates, learn about contests and more.
ABOUT HEXO+
Founded in 2014, HEXO+ is transforming how people use drones in a safe and autonomous way, and the team behind the project has developed the first autonomous drone system with unrivalled filming ability, making it possible to film in the most remote locations around the world. The HEXO+ team consists of individuals with over 15 years of experience in their respective domains, from aeronautics software development to actionsports movie-making to drone building to startup management. To learn more, visit www.hexoplus.com.
Featured Product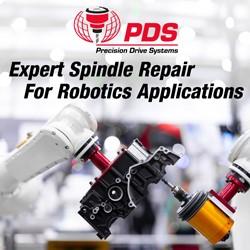 Precision components machined by CNC robot machining systems require compact, lightweight, and high-speed motorized spindles capable of delivering higher efficiency, performance, and reliability than those used in many other industries. That's why manufacturers of milling, cutting, trimming, grinding, polishing, and deburring trust Precision Drive Systems (PDS) to provide accurate and dependable spindle repair to perform to the most exacting standards.