Money Back Offer Announced for Americas Top 100 Most Dangerous Cities
Raleigh, NC July 08, 2014

Cities who made the FBIs Top 100 Most Dangerous Cities list this year may have something to celebrate after all. Drone manufacturer Olaeris has announced a bold proposal offering to significantly reduce crime in these cities and cut all 911 response times by 50-80%. The company is offering a money back guarantee to prove they can deliver on that promise.
Olaeris has developed the only fully autonomous unmanned aircraft system (UAS) in the world that is designed specifically as a 911 first response and disaster management tool. They have been meeting with agencies, demonstrating the value of automating 911 first response with their robotic drone called AEVA. The average U.S. response time for routine police and fire calls is 8-12 minutes, which many already see as being too long. In addition, 95% of the fire and burglar alarms received are false, tying up manpower and resources that could be used elsewhere. Many cities also suffer from tight budget limitations and insufficient personnel, resulting in even longer 911 response times of 20-90 minutes for routine calls.
AEVA automatically launches when a 911 call is received, arriving to the location in about 1-2 minutes so police and fire responders can see whats happening. This allows them to adjust their ground response in real time and send the right amount of assistance where its needed most urgently. It also means manpower isnt wasted chasing false alarms or delayed by non-emergencies. They can immediately see that only one police car is needed instead of three, or that three fire engines are needed instead of just one. For the police and fire departments, each AEVA installed is as effective as hiring 6-8 more personnel, but at a 75% lower cost to the city. For example, installing twelve AEVAs is equivalent to hiring about 75-100 more personnel, for less money.
Olaeris CEO Ted Lindsley said, "These cities face ongoing challenges to deliver effective police and fire services within tight budget limitations. Hiring more and more personnel to staff outdated operating concepts is just not efficient. By contrast, AEVA measures 911 response time in seconds rather than minutes, and delivers capabilities these agencies have never had before. Over the coming ten years, all first response agencies will adopt this technology and operating model."
In March 2014, a major analyst firm published the UAS Buyers Guide, listing AEVA as the only drone in the world that met 100% of their recommendations for public safety agencies to consider buying. In April 2014, the ACLU aligned with Olaeris, announcing that both entities agree on how to responsibly integrate UAS technology into emergency response, while still protecting civil liberties and privacy rights. Olaeris plans to involve civil rights organizations like the ACLU and public oversight committees for AEVA installations, offering total transparency to citizens. AEVA even publishes flight logs on the Internet so concerned citizens can scrutinize when, where, why and how it is being used.
In their video proposal, Olaeris promises to move cities at least ten positions down the FBI Most Dangerous Cities List, or even off the list entirely. The company is offering a 100% money back guarantee to prove they can do it and they already have areas in their integration queue. City officials have until Labor Day to contact the company and learn the details if they want to take advantage of the guarantee.
About Olaeris
Olaeris builds advanced, autonomous unmanned aircraft systems for civilian applications that automatically sense and avoid other aircraft and flight path obstacles, Its flagship product, AEVA, is manufactured to commercial aircraft specifications and serves industrial uses in emergency response, disaster management, oil & gas monitoring, infrastructure grid inspection, TV sports, news production, perimeter security, coastal safety and similar applications.
Featured Product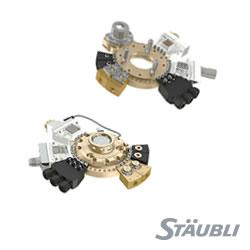 Stäubli is a pioneer in the construction and development of robotic tool changing systems. Our customers benefit from our many years of expertise in all industry sectors, as well as our modular product concept, which offers three efficient solution paths: MPS COMPLETE offers preconfigured robotic tool changers for immediate use. MPS MODULAR allows the user to determine the configuration, while MPS CUSTOMIZED allows the construction of special, application-specific systems.