The UAV flight demonstrations were the biggest crowd pleaser.
MEMPHIS, Tenn., July 10, 2014 -- Drones were humming above the crops outside of Agricenter International this week during the Delta AgTech Symposium, a showcase of all the ways unmanned aerial vehicles (UAVs) can be used in farming.

Nearly 250 people participated in the two-day symposium held July 7 and 8, with attendees traveling in from both coasts and every region in the United States, plus six other countries. The diverse group of attendees included crop consultants, agronomists, farmers, agribusinesses, researchers, and technology and data providers, along with UAV manufacturers. Entira, Inc., an agricultural marketing and management firm, hosted the conference with support from the Association for Unmanned Vehicle Systems International (AUVSI).
The UAV flight demonstrations were the biggest crowd pleaser, but participants also favored hearing about regulations and legal implications of operating UAVs on a farm operation. Attendees were able to learn firsthand about Federal Aviation Administration regulations and considerations from Jim Williams, manager of the Unmanned Aircraft Systems (UAS) Integration Office with FAA.
"When guidelines are established within the next year, this technology will move quickly from 'something that the ag community is curious about' to 'something that rapidly becomes another part of their daily operations,'" says Mike Karst, senior partner, Entira, Inc. "Opportunities abound for companies that provide equipment and services for this emerging sector, and that's why we wanted to bring together as many players as we could to really educate and engage the industry on what's coming."
The Delta AgTech Symposium—sponsored by FarmSpace Systems, Horizon Precision Systems, and legal firm Husch Blackwell—included UAV technology and flight demonstrations, speakers, and a trade show. Speakers included leaders from the FAA, FarmSpace Systems, AUVSI, Middle Tennessee State University, National Agricultural Aviation Association, NextGen Air Transportation Center at the Institute of Transportation Research and Education at North Carolina State University, PrecisionHawk, Crop Quest, RoboFlight Systems, Mississippi State University and Ausley McMullen, a law firm working with emerging UAS regulations.
During the event, Entira announced it would be leading the formation of an AUVSI chapter in the Memphis/Mid-South area, with several companies already on board. Entira will announce details for an informational meeting soon, but companies interested in joining can contact Kelli Polatty. This fall, Entira will also launch a market research study focused on UAV use in agriculture, and the insight garnered this week will provide a solid platform for writing the study. The company will be recruiting subscribers soon, but interested companies can email Dave Rye for more information about enrolling as a subscriber for this study.
"Our Entira team is committed to helping agribusiness companies integrate this technology and the huge increase in data into their business plans and educate the ag community on incorporating these cutting-edge tools into their management strategies," Karst says.
Look for a repeat of the Delta AgTech Symposium next year. Participants expressed high satisfaction with the quality of the content and value from networking at the conference. Event organizer and Entira associate Kelli Polatty says, "We already have companies asking to participate in 2015. Obviously this is a topic of interest that everyone expects will grow exponentially in the foreseeable future, and Entira intends to stay deeply involved in the conversation."
For more information about the event, visit deltaagtech.com.
About Entira
Entira is a marketing and management consulting firm for food and agribusiness. More information is available at www.entira.net.
About AUVSI
The Association for Unmanned Vehicle Systems International is the world's largest non-profit organization devoted exclusively to advancing the unmanned systems and robotics community. Serving more than 7,500 members from government organizations, industry and academia, AUVSI is committed to fostering, developing, and promoting unmanned systems and robotic technologies. More information is available at www.auvsi.org.
Featured Product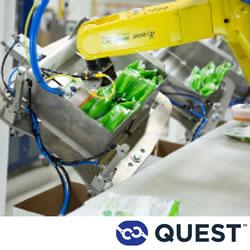 Quest is a leading manufacturer of industrial automation equipment focusing on robotics and vision-guidance. With expertise in the food, beverage, and dairy, Quest optimizes floor space for customers experiencing growing demand and helps improve their overall production line flexibility and efficiency. Quest offers application-specific software on their robotic products, including pick and place, case packing, and palletizing systems to simplify system setup and streamline configurability. Quest is a product brand of ProMach, a global leader in packaging line solutions.