The device is a breakthrough for the iris recognition industry as the price (estimated MSRP at $250) and form factor are unprecedented.
FAIRFAX, Va., July 10, 2014 -- IriTech, a leading iris based identity management technology solutions company and a member of the Texas Instruments Design Network, will introduce the world's first iris recognition enabled smartwatch, the FiDELYS, by launching a crowd funding campaign on Indiegogo.com within this week. It believes that the smartwatch is a perfect form factor for iris recognition in terms of user experience (UX), because people are so used to glancing into their watches.

The device is a breakthrough for the iris recognition industry as the price (estimated MSRP at $250) and form factor are unprecedented. If you preorder on Indiegogo.com, it will cost only around $200. The convergence of biometrics and wearables will take both industries to a new level as it finally shows the possibility of iris recognition technology widespread as a consumer device. The watch's UI is also special as it will feature a rotating-clicking bezel - IriTech believes touchscreens are not the best choice for form factors as small as a watch.
IriTech was established in 2000, with a singular focus on delivering the most accurate, compact and price effective iris recognition cameras. "IriTech's technology will authenticate the user through IriTech's military grade iris recognition algorithms to enhance security around our digital life and further for the Internet-of-Things," says Daniel Kim, CEO of IriTech. IriTech's algorithm was top ranked in the US government's NIST test for its accuracy and is utilized by various institutions such as the US Navy, Lockheed Martin, Indian Government, etc.
IriTech notes that its technology has an FAR of 1e-6, with FRR less than 0.2% and could capture the iris image under various environments, including under direct sunlight. The captured iris image will never leave FiDELYS, but will generate a key that will be sent to the owner's phone, laptop, PC, gateway etc., giving them access to applications being requested, so one does not need to worry about his or her iris image being exposed. Also, IriTech informs that the biggest concern of iris recognition on people losing their eyes is now a myth. IriTech has a patented technology for detecting "live" irises. High quality images, videos or non-live irises will not be recognized.
But what could the iris recognition feature do on a smartwatch? According to IriTech, the FiDELYS will solve three major problems our generation is facing: The Password plague, Privacy issues and Authentication issues.
PASSWORDS - There have been several password breaches on major websites during the past few months alone and after the recent Heartbleed Bug, the number of passwords we need to remember to avoid getting hacked, is a plague itself. The inefficiencies are not only for individuals but also for businesses that spend time on supporting customers to recover their passwords. With an iris scanner on your wrist, the FiDELYS will eliminate the need to remember user credentials when logging in to Web sites, email accounts and bank accounts. The user's identity will be verified by the smartwatch. It's a great solution at a time where cameras are everywhere to snoop your password with a glance while you key in your password.
PRIVACY - You can easily find ways to hack device pins on youtube.com. So what happens to your sensitive information on your device? Especially when we have most of our personal information such as, bank information, contacts and pictures on our smart devices?
The FiDELYS can encrypt/decrypt files and data, control launch of applications (bank apps, picture galleries, emails etc.) and lock/unlock your device itself by verifying your iris pattern. The risk of exposing personal information will therefore diminish significantly as iris recognition is considered the most secure biometric modality due to its complexity and difficulty to replicate.
AUTHENTICATION - IoT or Internet of Things, a development of the Internet with everyday objects to have network connectivity, allowing them to send and receive data, is going big. However, there is fear over privacy and trust issues as the magnitude of security breaches could have much more extreme consequences when control of the data goes into the wrong hands (click link for examples) compared to the past when everything was simple.
"Our expertise of embedding our strong algorithm in a compact form-factor at a competitive price is a perfect fit for smartwatches, which will be the center of wearables and IoT. We want to play a role in enhancing the security and solving inefficiencies by developing the FiDELYS," says Jungwoon Ryu, Head of Business Development. "We have already developed an application called FYIO (For-Your-Iris-Only) for password replacement and encryption of files and data in 2012 and available on GooglePlay with our IriShield cameras, which are compatible with Windows, Android and Linux. With IriShield, FYIO and FiDELYS, we hope to bring peace of mind to people in the digital world. That's the whole point of biometrics. To reduce concerns over privacy and security."
IriTech was already known for developing state-of-the-art iris recognition cameras which are accurate, cost-effective and compact. The flagship camera series IriShield (based on the TMS320C6748 DSP from Texas Instruments) has a form-factor as small as half the size of a hand's palm and was the only iris recognition camera for authentication to be rewarded with STQC certification for the Indian Government's Aadhaar project, the biggest biometrics project in the world with the nation's ambitious plan to register all 1.2 billion residents with their irises and fingerprints.
Watch Video: http://youtu.be/sw-OCo48F9s
FiDELYS Blog: www.fidelyswatch.com
IriTech Website: www.iritech.com
Contact: sales@iritech.com
About IriTech, Inc.
IriTech is a Virginia-based iris technology provider well-known for its unique and accurate iris matching and iris image assessment algorithms. By embedding those algorithms into ultra-compact hardware, the company pioneers in introducing cost-effective yet high quality, easy-to-use and platform-independent iris cameras. Besides encased versions for end-users, the cameras can also be supplied as OEM modules with extensive SDK (software development kit) for customers to manufacture their own branded devices and/or develop their own application software. For more information on IriTech's various hardware and software product lines, please visit www.iritech.com.
Featured Product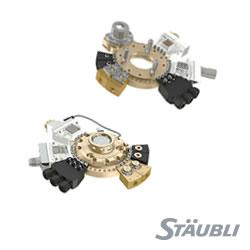 Stäubli is a pioneer in the construction and development of robotic tool changing systems. Our customers benefit from our many years of expertise in all industry sectors, as well as our modular product concept, which offers three efficient solution paths: MPS COMPLETE offers preconfigured robotic tool changers for immediate use. MPS MODULAR allows the user to determine the configuration, while MPS CUSTOMIZED allows the construction of special, application-specific systems.