Feature-rich, affordable platform enables OEMs to leverage SmartFusion2's lowest power consumption in its class, high reliability capabilities and best-in-class security to build highly differentiated products with significant time to market advantage
ALISO VIEJO, Calif., July 9, 2014 -- Microsemi Corporation (Nasdaq: MSCC), a leading provider of semiconductor solutions differentiated by power, security, reliability and performance, today announced the availability of the company's new leading-edge SmartFusion®2 SoC FPGA Evaluation Kit. The new SmartFusion2 Evaluation Kit is an easy-to-use, feature-rich, affordable platform designed to enable designers to quickly and easily accelerate evaluation or prototype their application. Utilizing Microsemi's mainstream SmartFusion2 FPGAs enables original equipment manufacturers (OEMs) to leverage the device's lowest power consumption in its class, high reliability capabilities and best-in-class security technology to build highly differentiated products that help them gain a significant time to market advantage.

A prime example is that the SmartFusion2 Evaluation Kit allows for simplified development of transceiver I/O-based FPGA designs necessary in today's PCI Express (PCIe) and Gigabit Ethernet-based systems. For faster evaluation and prototyping, Microsemi's leading-edge evaluation board is small form-factor PCIe compliant, which can be used on any desktop PC or laptop with a PCIe slot. According to market research firm Infonetics, the carrier Ethernet market will grow to approximately $39 billion in 2017.
"Leveraging our experience as a leader in this market, Microsemi's new SmartFusion2 SoC FPGA Evaluation Kit is the ideal development platform for designers just starting to work with FPGA-based processors. We've made it easier to implement new designs because designers aren't starting from scratch," said Venkatesh Narayanan, director of software and systems engineering at Microsemi. "It is important for our OEMs to implement designs quickly and Microsemi's new kit provides the key mainstream features customers demand most, with a 25K LE SmartFusion2 mainstream FPGA and SERDES evaluation capabilities at a very affordable price point."
The kit offers a comprehensive set of features that include PCIe, Gigabit Ethernet, full-duplex SERDES SMA pairs, DDR memory, SPI Flash, USB On-The-Go and several expansion interfaces that create the needed flexibility for a wide range of application development. With purchase of the evaluation kit, developers also have access to Microsemi's full array of industry leading development resources such as reference designs and the ability to launch example application demonstrations.
For more information on Microsemi's SmartFusion2 SoC FPGA Evaluation Kit, visit www.microsemi.com/fpgaevaluationkit. Customers can also contact Microsemi's sales team at sales.support@microsemi.com.
About SmartFusion2 SoC FPGAs
SmartFusion2 SoC FPGAs integrate inherently reliable flash-based FPGA fabric, a 166 megahertz (MHz) ARM Cortex-M3 processor, advanced security processing accelerators, DSP blocks, SRAM, eNVM and industry-required high performance communication interfaces, all on a single chip. Microsemi's SmartFusion2 SoC FPGAs are designed to address fundamental requirements for advanced security, high reliability and low power in critical communications, industrial, defense, aviation and medical applications.
About Microsemi
Microsemi Corporation (Nasdaq: MSCC) offers a comprehensive portfolio of semiconductor and system solutions for communications, defense & security, aerospace and industrial markets. Products include high-performance and radiation-hardened analog mixed-signal integrated circuits, FPGAs, SoCs and ASICs; power management products; timing and synchronization devices and precise time solutions, setting the world's standard for time; voice processing devices; RF solutions; discrete components; security technologies and scalable anti-tamper products; Power-over-Ethernet ICs and midspans; as well as custom design capabilities and services. Microsemi is headquartered in Aliso Viejo, Calif., and has approximately 3,400 employees globally. Learn more at www.microsemi.com.
Featured Product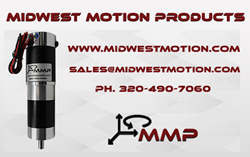 MMP specializes in supplying high-quality Brushed & Brushless DC Motors & Gearmotors for Robotics and Automation Equipment with a wide range of motor windings and gear ratios. With an impressive track record of more than 8,000 released DC Gearmotors designs and over 2,000,000 individual part numbers, we are renowned for our ability to handle large-scale orders. Due to our huge on-hand inventory, we are also well known for lightning-fast delivery of our standard products. We take pride in our dedicated customer service and our team of knowledgeable sales and engineering experts who are ready to assist you with custom design solutions tailored to your specific application. Additionally, we also offer a wide range of complimentary products, such as DC Motor Controls, DC Linear Actuators, AC-DC power Supplies, and DC Servo Amplifiers and others.