Rockwell Automation, Inc., the worlds largest company dedicated to industrial automation and information, celebrates the 20th anniversary of its software research and development campus in Dalian.
Among the first few multi-national companies to set up global software R&D facilities in Dalian, this long-standing campus is a testament to Rockwell Automations commitment to the China market and its firm confidence in "Innovation in China".

Over the past two decades, the Dalian campus has evolved from a two-engineer operation to the companys largest software R&D center outside the U.S. The campus now focuses on new product development and innovation, with a solid reputation for high quality and on-time delivery.
In his opening remarks presented at the morning event, Keith Nosbusch, Chairman and CEO of Rockwell Automation said, "I continue to be impressed by how our Dalian campus has evolved into a truly great asset for our global R&D capabilities, providing support not only for our global customers, but also serving local customers in China. China is a strategic and important market for our continued global success and it is our long-term strategy to strengthen our innovation capabilities in China and cultivate more local talent to better serve the China market."
At The Connected Enterprise Forum held that afternoon, Mr. Nosbusch introduced how the convergence of control and information technologies coupled with new technologies such as mobility, cloud and big data analytics are reshaping the manufacturing landscape. The Dalian campus will play a significant role in supporting Rockwell Automations vision for The Connected Enterprise.
"The arrival of the Internet of Things is creating new opportunities in industry and the manufacturing sector. These opportunities grow out of the rapidly-increasing demand for consumer goods, infrastructure and natural resources in China due to the rapid urbanization that will see 225 large- and medium-sized cities in China among the worlds top 600 by 20251, as well as the pressing need to improve energy efficiency in Chinese manufacturing. Industry accounts for more than 70 percent of total energy consumption in China 2. Facing these mega trends and transformational forces, it is no longer enough to simply automate machines and processes to have them run faster and produce more. To remain competitive, nothing can be isolated anymore. Manufacturers now need to connect smart devices, machines and processes across the whole plant floor, tightly bridge their manufacturing facilities to the rest of the enterprise, and link the entire supply chain. This will require moving from simply automating labor to leveraging information; changing pockets of expertise to global collaboration; and mitigating risk by transitioning systems from open to open-and-secure. We call this vision - The Connected Enterprise," added Mr. Nosbusch.
Core to The Connected Enterprise vision is the convergence of control and information technologies. The Dalian campus supports the companys strategy around The Connected Enterprise, bringing smart, safe and sustainable manufacturing to life by prioritizing research on enhancing the integration of control and information systems. With the combination of visualization and information software, systems can provide graphically rich displays for role-based control and information, and enable access to real-time and historical data from the plant floor to the enterprise, achieving greater productivity and better fact-based decision-making. Development of Rockwell Automations core visualization software, FactoryTalk View, is carried out at the Dalian campus. It is in great demand from customers and has received many prestigious industry awards for its outstanding quality and features.
Talent is central to innovation - this belief is deeply rooted in Rockwell Automations DNA. Sixty percent of the employees at the Dalian Campus hold a Masters degree or more. Through the Rockwell Automation University Partnership Program, the campus partners with a number of local universities to cultivate talent. Rockwell Automation has invested RMB 9 million to establish three joint laboratories with Dalian University of Technology, Dalian Maritime University and Dalian Nationalities University in Northeast China.
Note:
1 The source was addressed in the Forward Industry Research Institute report "China New-type Urbanization Report (2014-2018), Construction Path and investment Strategy".
2 The source is according to the speech of Liu Yizhong, former Minister of China Industry and Information Technology, at the Caring for Climate China Summit.
http://www.rockwellautomation.com/
Featured Product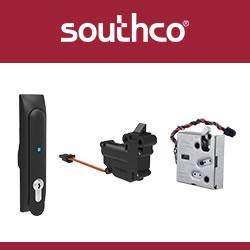 Many robotics engineers need to securely mount and latch sensitive electronic components in their robotics applications; Southco is able to help reduce theft and vandalism with our proven and reliable access technologies. Learn how Southco can help secure your robotics, or other smart city application, from theft and vandalism.