October 15-17, 2014 in Boston, MA.
FRAMINGHAM, Mass., July 15, 2014 -- RoboBusiness is proud to announce that visionary speaker, bestselling author and MIT principal research scientist Andy McAfee will keynote RoboBusiness 2014 (www.robobusiness.com), the leading business development event for the global robotics industry, taking place October 15-17, 2014 in Boston, MA.

McAfee is a Sloan School tech economist and co-founder of MIT's Initiative on the Digital Economy. He has delivered his research and findings on the future of technology at TED, Xconomy, The Aspen Ideas Festival, and numerous TV news segments as well as been featured by IBM Social Business, Oracle Videos, The CapGemini Group, The Forum Network, and GE Reports. His memorable appearance on 60 Minutes in January 2013 put McAfee at the center of the controversy around intelligent machines, employment, and the industrial re-shoring.
McAfee's keynote, The Second Machine Age, will discuss how robotics is driving the greatest era of economic transformation since the Industrial Revolution. His arguments, both pro and con, on a slew of topics from our present condition to what the future of intelligent machines and advanced software might hold, will prepare audience members for the new economy's unprecedented forms of human-machine collaboration and lay out the technological, societal and economic factors that will determine the next age of prosperity.
"RoboBusiness is thrilled to feature a brilliant mind like Andy's as part of our core program," says Casey Nobile, RoboBusiness Co-Chair. "He brings a fresh and thoroughly researched perspective on robotics' significance as a business enabler and how these exciting technologies fit into the shared future of the global economy."
Join Andy & Others at RoboBusiness 2014
RoboBusiness is all innovation all the time. Join 1,200 executive-level attendees, including robotics executives, investors, researchers, end users and business consultants for three days of private networking, world-class speakers and informative educational sessions. Walk away with the most current understanding of robotics' commercial opportunities, along with the tools and invaluable industry contacts you've come to expect.
About Robotics Trends Media Group
The Robotics Trends Media Group accelerates the advancement of robotics through a collection of integrated media brands customized to serve audiences at all levels of the robotics industry. Comprised of online publications and live events, The Robotics Trends Media Group brands currently include Robotics Trends (www.roboticstrends.com), Robotics Business Review (www.roboticsbusinessreview.com), RoboBusiness (www.robobusiness.com), RoboBusiness Europe and CES' Robo Marketplace.
Featured Product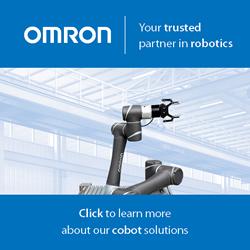 Humans and robots can now share tasks - and this new partnership is on the verge of revolutionizing the production line. Today's drivers like data-driven services, decreasing product lifetimes and the need for product differentiation are putting flexibility paramount, and no technology is better suited to meet these needs than the Omron TM Series Collaborative Robot. With force feedback, collision detection technology and an intuitive, hand-guided teaching mechanism, the TM Series cobot is designed to work in immediate proximity to a human worker and is easier than ever to train on new tasks.