Honeywell is using the Seegrid AGVs to transport raw materials such as copper coils, cables, and wire spools to manufacturing and deliver the finished goods to the warehouse.
PITTSBURGH, PA—Honeywell, located in Pleasant Prairie, WI, recently installed Seegrid automated guided vehicles (AGVs)—GP8 pallet trucks. Honeywell is using the Seegrid AGVs to transport raw materials such as copper coils, cables, and wire spools to manufacturing and deliver the finished goods to the warehouse.

Michael Crichlow, Cable and Custom Electronics Logistics Manager, at the Pleasant Prairie Honeywell location explained, "We are using the Seegrid GP8s to enhance the capabilities of my professional material handling staff by providing them another set of forks to complete the cross-plant moves. The AGVs will allow me to use my material handlers for the more precise placements and technical moves throughout the manufacturing floor and distribution center. This is accomplished by eliminating empty fork time as the material handlers move from one task to the next."
Crichlow also noted that the Seegrid AGVs offered more flexibility versus traditional AGVs, which require lasers, wires, tapes, or magnets. "I chose this technology because of the flexibility of being able to reprogram the vehicles quickly as we frequently change layouts. The "permanency" of the laser reflectors, magnets, and strips just wouldnt be practical in our constantly improving work space."
Seegrid AGVs enable Honeywell to eliminate "empty fork time"—traveling cross-facility to make a delivery with no return load. "Three dynamic results are expected with the Seegrid AGVs at the Honeywell facility including, an increase in cases picked per labor hour metric, increased support level for production operations, and improved material flow and 5S adherence," remarked Crichlow.
About Seegrid
Seegrid Corporation (www.seegrid.com) is the global leader of robotic vision-guided automated guided vehicles (AGVs). Seegrid AGVs are revolutionizing the movement of materials handling in manufacturing and distribution environments with simplicity, flexibility, and affordability. Robotic pallet trucks, tow tractors, and walkie stackers optimize workflow processes by increasing productivity and reducing labor and operating costs, creating economic and operational advantages. Seegrid AGVs improve workplace safety, reduce equipment and product damage, and deliver a rapid return on investment. The companys state-of-the-art navigation technology requires no infrastructure for navigation—no wires, lasers, tapes, or magnets.
In addition to the 2014 Edison Award, Seegrid was named Manufacturer of the Year and the Food Logistics Top 100 software and technology providers. Follow on Twitter @Seegrid.
Featured Product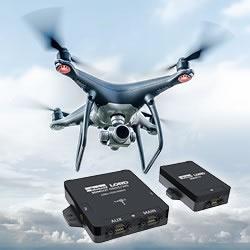 The new complete inertial navigation solution comes with GNSS/INS 3DMGQ7 sensor, 3DMRTK correction modem and real time SensorCloud RTK correction network. The sensor comes with Dual antenna GNSS, tactical grade IMU with centimeter-level accuracy with RTK. Low profile and light weight at 78 grams, this sensor is The sensor is optimized for size and weight in Unmanned Ground Vehicles, mobile robots and autonomous vehicles. The network interface 3DMRTK modem is seamlessly integrated into the 3DMGQ7 sensor supports industry-standard NMEA and RTCM 3.1 protocols. The network RTK support comes with cellular data plan. The SensorCloud RTK is a cloud-based RTK correction system with private encrypted data stream. Check out our G Series and C Series OEM products.