Kratos Defense & Security Solutions, Inc., a leading National Security Solutions provider, announced today that its Advanced Drones & Target Systems Division (KADTS) recently received a new $4.2 million contract award to provide unmanned aerial drone system aircraft and related spares to a National Security customer.
Kratos is a leading provider of unmanned aerial systems, drone aircraft, command and flight control systems, avionics and related electronics. Kratos is also a leader in unmanned ground and seaborne systems, technology, avionics, electronics and unmanned vehicle command and control systems. KADTS will produce the aircraft at a secure Kratos manufacturing facility. Due to customer related and other considerations, no additional information will be provided related to this contract award.

Wayne Armstrong, President of KADTS, said, "We are pleased to have received this new contract award from this important long-standing customer."
Featured Product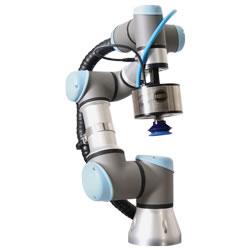 The Collaborative Robot Vacuum Tool (CRVT) from Bimba adds unparalleled flexibility to your collaborative robot. The standard CRVT is highly configurable to meet your application needs, but simple to install and operate. This fully integrated tool means all you need to supply is compressed air and a signal to control the valve. A variety of standard and custom options make the Bimba CRVT the perfect tool for your next collaborative robot project.