Kratos Defense & Security Solutions, Inc., a leading National Security Solutions provider, announced today that its Advanced Drones & Target Systems Division (KADTS) recently received a new $4.2 million contract award to provide unmanned aerial drone system aircraft and related spares to a National Security customer.
Kratos is a leading provider of unmanned aerial systems, drone aircraft, command and flight control systems, avionics and related electronics. Kratos is also a leader in unmanned ground and seaborne systems, technology, avionics, electronics and unmanned vehicle command and control systems. KADTS will produce the aircraft at a secure Kratos manufacturing facility. Due to customer related and other considerations, no additional information will be provided related to this contract award.

Wayne Armstrong, President of KADTS, said, "We are pleased to have received this new contract award from this important long-standing customer."
Featured Product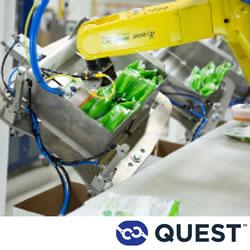 Quest is a leading manufacturer of industrial automation equipment focusing on robotics and vision-guidance. With expertise in the food, beverage, and dairy, Quest optimizes floor space for customers experiencing growing demand and helps improve their overall production line flexibility and efficiency. Quest offers application-specific software on their robotic products, including pick and place, case packing, and palletizing systems to simplify system setup and streamline configurability. Quest is a product brand of ProMach, a global leader in packaging line solutions.