SkyWard is digitizing the environment to connect commercial operators, regulators, and insurers on a global platform that operates at the speed of the market.
PORTLAND, Ore., July 15, 2014 -- SkyWard, the pioneer in Drones as a Service (DaaS) software solutions, raised $1.5 Million in Seed round financing to build the first operations management platform for commercial robotic aircraft. Voyager Capital led the round with participation from Draper Associates and Toivo Annus, founder and former head of engineering at Skype.

Aviation management has historically been highly fragmented, paper-based and slow. SkyWard is digitizing the environment to connect commercial operators, regulators, and insurers on a global platform that operates at the speed of the market.
"Commercial aerial robotics will be as common to our infrastructure as the smartphone - a physical extension of the internet which will allow users to exchange information, and even physical product like never before," said SkyWard CEO Jonathan Evans. "Aerial robotics is the next movement in search and rescue, environmental surveys, utilities inspection, precision agriculture, commerce and transit- our software allows stakeholders to manage operations in a safe and compliant way through a global digital platform."
The SkyWard system allows businesses to focus on flying rather than the time-consuming tasks of regulatory compliance, risk management, and manual record keeping. The software offers custom tools including a cloud-based workflow to stay in compliance, a GIS overlay map with up-to-date airspace rules and guidelines, automated flight logs, and a unique and secure digital identity that can be used with regulators and insurers around the world.
"SkyWard is in a position to influence the direction of the unmanned aerial market and deliver the solution required to make commercial drones a safe and viable business model," said Diane Fraiman, Voyager Capital. "Voyager is very excited to be part of their future success."
About SkyWard
The SkyWard platform is a system for managing aerial robotics (AR) flight operations around the world. Unique, portable identities for drones and people give managers real-time visibility on assets in the field; customer requests can be efficiently dispatched; and flight operations can be tracked at all times. Logs for aircraft and personnel are automatically updated and the information flows seamlessly to the regulator and insurer as needed.
Featured Product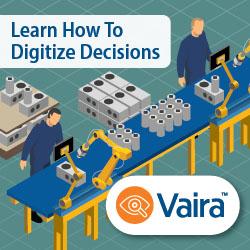 Pleora's Visual Inspection System helps operators detect errors and defects for unique component types, assembly steps, and custom low-run products where automated optical inspection (AOI) is too complex and expensive. The system helps DICA Electronics: Avoid costly, errors as a result of detecting errors at different phases in production, Speed time in detecting the root cause of the in-field errors with Tracking & Reporting apps for traceability, Maintain consistency in training new employees on requirements or with staff any time a new product is added, Easily train the system using 'good product' images for multiple product lines with no programming skills required, Reduce subjective decision-making, especially over a long shift, reducing error-escapes.