Featuring several robotics organizations from northern Utah, the first ever Cache Valley Robotics Fair shows how valuable STEM education can be and raises money for local robotics teams.
Logan, Utah July 15, 2014

Robotics enthusiasts gathered Saturday at Bridgerland Applied Technology Center's (BATC) west campus in Logan, Utah, for the inaugural Cache Valley Robotics Fair. The event was organized by local robotics company, Autonomous Solutions, Inc. (ASI), to support local robotics teams and featured exhibits from ASI, Utah State University, BATC, and Mountain Crest High School. About 300 people from the Logan community attended.
Fair goers lined up for an opportunity to ride in ASI's fully robotic Ford Escape. The Escape leverages vehicle robotics, GPS, and radio technology to navigate along a path designated in a software program. The same technology in action at Saturday's fair is currently used by Ford's Michigan Proving Ground to improve safety and reliability in vehicle durability testing. The Fair is one of the only places in the world to ride in a fully autonomous vehicle.
Utah State University, BATC, and Mountain Crest High School supplied robots that had recently seen action in the VEX robotics tournament circuit. The VEX tournaments attract thousands of future engineering students from all over the world. With the robot they brought to the fair, Mountain Crest's team won the Utah State title in 2014 and placed 22nd in their division at the World competition.
During the week leading up to the Robotics Fair, local students took part in the Robotics Boot Camp sponsored by BATC. Participants worked with Arduino technology that helped them perform a variety of tasks with a robotic arm. Students' final projects were on display at the Robotics Fair.
"We're trying to promote the junior high and high school competitions that generate the skills we need in future engineers," said ASI's CEO, Mel Torrie, to the Herald Journal. A secondary objective of the Fair was to raise money for robotics teams that face high entry fees and equipment costs for state and international competitions.
The organizers are currently planning future events that will promote interest in STEM education at all levels.
About ASI
For nearly 14 years, ASI has been a world leader in unmanned ground vehicle systems. From their northern Utah headquarters, ASI serves clients in the mining, agriculture, automotive, military, and manufacturing industries with robotic solutions ranging from driver assistance to full, multi-vehicle autonomy. ASI's world-class engineering staff is dedicated to the ideals of innovation, safety, simplicity, and quality.
Featured Product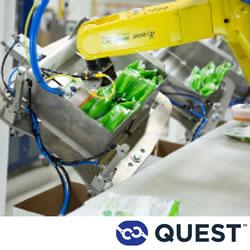 Quest is a leading manufacturer of industrial automation equipment focusing on robotics and vision-guidance. With expertise in the food, beverage, and dairy, Quest optimizes floor space for customers experiencing growing demand and helps improve their overall production line flexibility and efficiency. Quest offers application-specific software on their robotic products, including pick and place, case packing, and palletizing systems to simplify system setup and streamline configurability. Quest is a product brand of ProMach, a global leader in packaging line solutions.