SCHUNK team delivered a brilliant performance at AUTOMATICA 2014
06-11-2014 - Success requires two things: Superior technology and desire to succeed. Both came together for SCHUNK, the competence leader for clamping technology and gripping systems. Before a standing-room-only audience, the SCHUNK team delivered a brilliant performance at AUTOMATICA 2014, and thrived, even an enormous visitor surge. An offensive lineup with a strong three-element center dominated the game: First, the SCHUNK Special Talk with soccer giants, Lehmann, Netzer, and Völler, second a bundle of exhibition innovations, of which the SCHUNK safety gripping system instantly took on the role as favorite, and third, an incredible array of moving exhibits at the booth that showed the gripping systems in action.

"It has never been this busy at the SCHUNK booth before," commented Sky Champions League chief reporter, Jessica Kastrop. Not surprisingly, there was also a high level of media interest: Sky, RTL, Bild, and a number of other media, were on site, and in some cases reported live on AUTOMATICAs top game in their programs, online platforms, newsletters, and print media. The comment made by SCHUNKs brand ambassador, Jens Lehmann, was also appropriate: "The difference between me and SCHUNK was that sometimes when I went to catch the ball I missed, but SCHUNK never did."
With such a response, its no wonder that Henrik Schunk, Managing Partner of the innovative family-run business, predicts golden days ahead for robotics: "I know of no branch of industry that currently offers the multi-facetted opportunities that are offered by robotics. While innovative carmakers are already focusing on mobile and collaborative robots, medium-sized enterprises are just getting started with robot-supported production automation. There is still plenty of room at the top - also in terms of equipping the robots with grippers and other End-of-Arm components and solutions from SCHUNK." In other words: Theres always the next game. In this spirit it will be interesting to see how the SCHUNK team scores next.
Henrik A. Schunk on Automatica 2014:
Robotics with a huge potential
"Automatica 2014 impressively proved that there is huge potential in modern industrial and service robotics. The bandwidth of real and visionary applications that was shown at the worlds leading platform for automated processes, makes it clear that robots will soon be as self-evident in industrial production and in everyday life, as the PC or smart phone is today.
SCHUNK actively drives the development of robotics with its unique End-of-Arm competence. The world premiere of the first certified SCHUNK safety gripping system is a milestone on the road to safe man/robot collaboration, which visibly enthralled AUTOMATICA visitors.
For four days, things were really humming at the SCHUNK booth. Visitors from around the world, television broadcasts, and high-profile press round tables show that the concept "Gripping meets Robotics" was right on target: Through countless applications and examples, visitors were able to experience the efficiency with which SCHUNK gripping technology can be implemented - on every robot, in every application, in every industry. With over 4,000 components, SCHUNK has the worlds largest standardized gripping technology product range, and it offers optimal prerequisites in this regard. Over 2,000 implemented SCHUNK gripping system solutions per year speak for themselves.
The exclusive SCHUNK Special Talk devoted to the FIFA World Cup was a complete success: In the live encounter, our brand ambassador, Jens Lehmann, together with the two soccer legends, Günter Netzer and Rudi Völler, provided razor sharp analyses and bold views concerning the soccer worlds premiere event."
Henrik A. Schunk
Managing Partner
SCHUNK GmbH & Co. KG, Lauffen/Neckar
SCHUNK safety gripping system
Successful exhibition kick-off: The SCHUNK Safety gripping systems, EGN and EZN, are among the most innovative new products at AUTOMATICA 2014. The worlds first gripping systems certified in accordance with DIN EN ISO 13849, with the SLS, SOS, and STO functionalities, enable safe man/machine collaboration where space is at a premium. The satisfy the Performance Level d requirements, as well the SIL 3 requirements, and establish personal safety to the actuator level.
In the interaction with safety shut-off mats, door switches, light curtains or 3D cameras for area monitoring, with the SCHUNK safety gripping systems, it is now possible to define hierarchical protection zones without completely interrupting the production process through emergency shutdowns if man/machine contact is too close. Instead, depending on the protection zone that is activated, the grippers either go into a safe limited speed or into a safe operational stop. Unlike the solutions available on the market, the SCHUNK safety gripping systems are also continuously energized in safe operational stop, so that the parts grasped can be reliably held even without maintaining mechanical gripping force. As soon as the protection zone is released, the grippers switch back into regular operating mode without having to start up the plant again; this enables new scenarios of direct man-machine cooperation.
Broad spectrum of implementation
The mechatronic SCHUNK EGN/EZN 2-finger parallel gripper or 3-finger centric gripper program is completely modular and covers a broad spectrum of applications. Gripping force, speed, and finger position can be regulated and controlled while the handling process is running. Because the gripper fingers are already pre-positioned during the procedure, extremely short cycle times can be realized. All modules have the patented SCHUNK multi-tooth guidance: Multiple, prismatic guides, arranged in parallel make it possible to absorb moments, and thus minimize wear as well as guide play. Depending on the size, the high power density mechatronic modules of the family-run company generated gripping forces up to 1,000 N.
Safety functionality can also be retrofitted
In addition to the basic version, the mechatronic SCHUNK Universal Gripper is also available for dusty, damp, or corrosive environments. Cable sets that are suitable for drag chains or robots are available in different lengths appropriate for the application. A brushless servo motor whose rotary movements are converted into a lift movement via a spindle nut, provides the drive. A resolver connected directly on the motor continuously scans the position of the servo motor and enables precise positioning of the gripper fingers. The EGN/EZN is activated by the SCHUNK ECM controller equipped with standard plug-and-socket technology, either by Profibus (up to 12 mbps) or CAN bus (up to 1 mbps). The ECM controller enables extremely easy commissioning and parameter assignment by PC, USB stick, or rotary encoder switch. To use the certified functionalities, SLS, SOS, and STO, the grippers have been supplemented with a SCHUNK safety module that queries the resolver and compares it with the values of the ECM. No modifications of any kind are required on the gripper. Modularly structured, the safety function can be retrofitted at any time.
Featured Product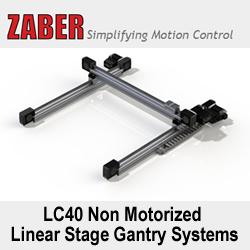 Zaber's X-LRQ-DE Series of linear stages have high stiffness, load, and lifetime capabilities in a compact size. The integrated linear encoder combined with stage calibration provides high accuracy positioning over the full travel of the device. At 36 mm high, these stages are excellent for applications where a low profile is required. The X-LRQ-DE's innovative design allows speeds up to 205 mm/s and loads up to 100 kg. Like all Zaber products, the X-LRQ-DE Series is designed for easy set-up and operation.