PaR Systems, Inc., a world leader in aerospace manufacturing, material handling, automation, and robotic solutions since 1961, announced today that its Shoreview based Automation Solutions Business and its I-STIR Technology, in partnership with FANUC America, are revolutionizing the utilization of the Friction Stir Welding process.
PaR Systems acquired the I-STIR Technology from MTS Systems in 2012, patented technology by TWI, and continues to develop the technology for a broad range of applications.

The I-RoboSTIR solution offers the flexibility needed to produce quality welds on 3D parts at high travel speeds. This product utilizes the proven I-STIR controller, and spindle weld package which communicates with the Robot Controller, creating a seamless solution. This allows the system to rely on the proven I-STIR controller for process control and the robot controller to handle the weld path motion. The I-STIR controller offers unique capabilities including a path-correction feature which compensates for manipulator and/or fixture deflections under welding loads. View this system in action on YouTube http://youtu.be/Hpymp7xKhzk.
I-STIR has a premium reputation within the industry and is the leading choice of technology innovators around the world. "I-STIR production equipment is used to produce large structures like high speed trains, very light jets and space launch systems but these and other industries required a solution for high volume, low cost production and this has been the catalyst for our I-RoboSTIR development effort," said Mark Wrightsman, President and CEO of PaR Systems. "For PaR, this creates an entirely new product opportunity that takes advantage of our 50 years providing robotic solutions. Preliminary market analysis has determined that the I-STIR Robotic technology has great growth potential as a disruptive technology that is positioned to displace convention fusion welding and assembly processes like riveting. Its truly exciting to be on the cutting edge of technology that could change how planes, trains and automobiles are produced."
In Friction Stir Welding a spindle is rotated, and at the end, a drill-bit-like pin with a shoulder attached is plunged into the joint line between two metal sheets such as aluminum. By applying load and rotational speed, the material is plasticized, but never reaches its melting point, and is extruded around the pin. This allows the pin tool to stir molecules from one plate into molecules of another plate of aluminum to create a very strong, solid-state welding joint that is durable as well as environmentally friendly. Unlike standard fusion welding, this green technology uses virtually no consumables and generates no harmful fumes.
About PaR Systems Inc.
PaR Systems, a portfolio company of MML Capital Partners (www.mmlcapital.com), is a world leader in providing advanced intelligent solutions for critical material handling, automation, and robotic applications that drive customer quality, safety, and productivity. Since 1961, PaR has created fully integrated systems, which are often first-of-a-kind manufacturing solutions, for a broad range of industries including aerospace, hazardous material/nuclear, life science and process automation, marine/defense, heavy material handling, and industrial. Headquartered in Minnesota, PaR Systems has global engineering and manufacturing centers of excellence.
http://www.par.com/
Featured Product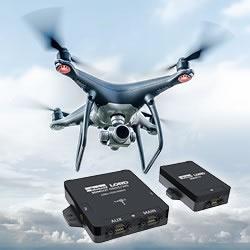 The new complete inertial navigation solution comes with GNSS/INS 3DMGQ7 sensor, 3DMRTK correction modem and real time SensorCloud RTK correction network. The sensor comes with Dual antenna GNSS, tactical grade IMU with centimeter-level accuracy with RTK. Low profile and light weight at 78 grams, this sensor is The sensor is optimized for size and weight in Unmanned Ground Vehicles, mobile robots and autonomous vehicles. The network interface 3DMRTK modem is seamlessly integrated into the 3DMGQ7 sensor supports industry-standard NMEA and RTCM 3.1 protocols. The network RTK support comes with cellular data plan. The SensorCloud RTK is a cloud-based RTK correction system with private encrypted data stream. Check out our G Series and C Series OEM products.