The DLG (German Agricultural Society) Field Days 2014, held recently at the DLG Crop Protection Center at Bernberg-Strenzfeld, Germany, showcased many new innovations in crop production for the German and other European producers present.
This year's event had special emphasis on drones, notably quadcopters and other multicopters for spotting disease, underwatering and many other conditions plus some fixed wing versions. Interest in their deployment in agriculture has exploded in the last year. Smaller, lighter and easier to operate, they exhibit greater virtuosity with more types of sensor. Producers now deploy them after a few hours of practice, often simulated on the computer. Many systems were on display, with tools and information to use the technology to its fullest potential.

There are similarities with the USA, where university students, entrepreneurs and established UAV manufacturers create these high-tech eyes and sensors in the sky for agricultural use. Many technologies are available in both Europe and the USA, nearly all electric and with many variants. In the USA, most of the manufacturers promise that prices will decline in the future as long as increased demand goes hand in hand with less restrictive federal regulations.
For more read the IDTechEx report, Unmanned Aerial Vehicles: Electric UAVs 2014-2024 . It covers the whole gamut of fixed wing, airship, VTOL, quadcopter and other multicopter drones, amphibians/diving and robot bat, bird and fly. It concludes that thousands of Unmanned Aerial Vehicles (UAVs) will be deployed very soon for both civil and military missions.
New technologies will be seen in and on them, from smart skin to structural components and intelligent motors with integral gearing. For long range UAVs where batteries are inadequate and hybrid powertrains are necessary, there can still be silent take-off and landing.
Only electrics can give us new forms of UAV; intelligently swarming robot flies being just one example of new missions made possible by electric power in UAVs. Several of these have potential in farming in due course. There is a sister report on manned electric aircraft, hybrid and pure electric, called, Electric Aircraft 2014-2024: Trends, Projects, Forecasts.
About IDTechEx
IDTechEx guides your strategic business decisions through its Research and Events services, helping you profit from emerging technologies. We provide independent research, business intelligence and advice to companies across the value chain based on our core research activities and methodologies providing data sought by business leaders, strategists and emerging technology scouts to aid their business decisions.
IDTechEx Research Subscriptions
Subscription services allow you to access a wide range of our technology and market research on a given topic or across topics, providing you with unlimited access to new related content throughout the subscription period at tremendous value.
Learn more at www.IDTechEx.com or to discuss your needs please contact us on research@IDTechEx.com.
Featured Product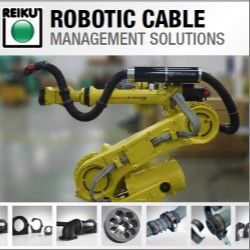 REIKU's Cable Saver™ Solution eliminates downtime, loss of revenue, expensive cable and hose replacement costs, maintenance labor costs. It's available in three sizes 36, 52 and 70 mm. All of the robots cables and hoses are protected when routed through the Cable Saver™ corrugated tubing.The Cable Saver™ uses a spring retraction system housed inside the Energy Tube™ to keep this service loop out of harms way in safe location at the rear of the Robot when not required. The Cable Saver™ is a COMPLETE solution for any make or model of robot. It installs quickly-on either side of the robot and has been tested to resist over 15 million repetitive cycles. REIKU is committed to providing the most modular, effective options for ensuring your robotic components operate without downtime due to cable management. www.CableSaver.com