AutonomouStuff and Harbrick debut PolySync™, the Autonomy Operating System, at the Automated Vehicles Symposium
San Francisco July 18, 2014

AutonomouStuff and Harbrick debut PolySync™ with an on-road demonstration at the Automated Vehicles Symposium, July 15-17 in San Francisco. PolySync is the world's first operating system for building autonomous vehicles. Similar to mobile platforms, it turns robot development into app development.
The transportation industry is undergoing a convergence of many technologies, enabling the development of autonomous vehicles. Vehicle OEMs are in a race to understand and commercialize these technologies before their competitors, while maintaining the safety and quality of their products. PolySync helps companies prototype, test, and ship safe and reliable autonomous vehicles in a fraction of the time.
"The car is the original mobile device," said Harbrick founder Josh Hartung. "PolySync is the operating system that will take automated driving from science project to mass deployment." When a company wants to build an autonomous vehicle, they have a variety of amazing, modular hardware components to choose from (LiDAR, radar, cameras, GPS, etc.), but they must build the software from the ground-up. Consequently, the bulk of development time is spent building, testing, and debugging software. For safety-critical systems such as automated emergency braking or lane keeping assist, every line of code must be tested and verified before it can be deployed.
Instead of building the system from the ground-up, PolySync lets developers build specialized apps that can be deployed on any PolySync-enabled vehicle, significantly reducing the codebase. PolySync takes care of complicated but critical tasks such as data management and time synchronization, letting developers focus on algorithms instead of infrastructure. The result is safer, more reliable systems and dramatically reduced time to market.
"We're so excited to be working with our partners to bring PolySync to the automated driving industry," said AutonomouStuff CEO Bobby Hambrick. "PolySync can help our customers build better systems and bring them to market faster."
For more information about PolySync, visit http://www.AutonomouStuff.com/autonomy-operating-system.html.
About AutonomouStuff:
Headquartered in the heart of Illinois, AutonomouStuff reaches the world as the leading single-source supplier of autonomous components and services. The company was founded with the goal of bringing together the world's best technologies to enable autonomy and increase safety.
A main focus at AutonomouStuff is customer success. Customers value the convenience of finding all the components needed to help enable autonomy in one location. AutonomouStuff focuses on supplying today's specialized products to help provide tomorrow's solutions. For more information, visit http://www.AutonomouStuff.com.
Featured Product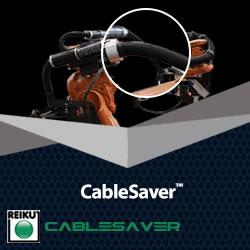 REIKU's Cable Saver™ Solution eliminates downtime, loss of revenue, expensive cable and hose replacement costs, maintenance labour costs. It's available in three sizes 36, 52 and 70 mm. All of the robots cables and hoses are protected when routed through the Cable Saver™ corrugated tubing. The Cable Saver™ uses a spring retraction system housed inside the Energy Tube™ to keep this service loop out of harms way in safe location at the rear of the Robot when not required. The Cable Saver™ is a COMPLETE solution for any make or model of robot. It installs quickly-on either side of the robot and has been tested to resist over 15 million repetitive cycles.