"The 200:1 ratio maximizes the split between S&P polarization which can be a critical factor in some high-power laser tasks."
July 23, 2014 - Santa Ana, CA - Precision Glass & Optics (PG&O® - www.pgo.com), global experts in optical manufacturing, customized optical solutions, and precision thin film coatings, introduces a new polarizing beamsplitter cube that splits up the S & P polarization of light with an extinction ratio of Tp/Ts 200:1 and higher. This thin film coating innovation is especially important for high-power laser applications up to 10J/cm2 pulsed and continuous wave (CW). All of the entrance and exit faces are coated with PG&Os high-power, anti-reflection coatings to improve the overall performance of the cube. These advanced optical coatings operate at wavelengths ranging from 200 nm - 2500 nm and can be customized to meet unique and critical requirements.

According to President Dan Bukaty, Jr., "The 200:1 ratio maximizes the split between S&P polarization which can be a critical factor in some high-power laser tasks. We are very excited about this new, higher extinction ratio because it escalates the level of proficiency to our beamsplitter thin film coating technology."
The new 200:1 extinction cube polarizing beamsplitters are useful in applications where the two polarization components are to be analyzed, or used simultaneously. PG&Os optical thin film coating technology, along with the companys large in-house inventory of optical glass products, and full optical fabrication facility, provides highly precise optical coatings that can be customized and specified (up to 24 inches diameter) to meet exact wavelength and/or angle requirements.
PG&O will be exhibiting at SPIE Optics & Photonics, August 19 - 21, 2014, at the San Diego Convention Center, San Diego, California. To learn more about the new polarizing beamsplitter cubes, please visit booth # 635. For more information about PG&Os full line of products and capabilities, please visit: www.pgo.com.
Featured Product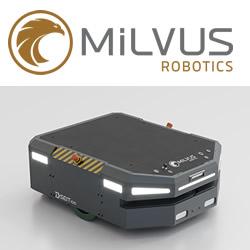 Enhance your material transport capabilities - even in the busiest warehouse or production environments - with SEIT robots. Made by Milvus Robotics, these reliable and safe AMRs efficiently move materials with no human intervention required. They work seamlessly alongside people, forklifts, and other equipment. Requiring no infrastructure, SEIT robots are suitable for a range of manufacturing environments, distribution centers and more.