The global mobile robotics market was valued at USD 6,249.6 million in 2012 and is expected to grow at a CAGR of 12.6% during the forecast period from 2013 to 2019.
CONYERS, Ga., July 23, 2014 -- GeckoSystems Intl. Corp. (Pink Sheets: GOSY | http://www.geckosystems.com/) announced today that an internationally renowned market research firm, Research and Markets, recently deemed GeckoSystems to be one of the key market players in the mobile robotics industry. For over seventeen years GeckoSystems has dedicated itself to development of "Mobile Robot Solutions for Safety, Security and Service.(tm)"

Research and Markets stated in their report, "Mobile Robotics Market - Global Industry Analysis, Size, Share, Growth, Trends, and Forecast, 2013 - 2019" that:
"The mobile robotics market is driven by various factors comprising integration of robotics with mobile technologies, other smart products, and appliances. Moreover, increasing grants and funds by governments, and decreasing price of sensors and cameras and availability of open source platforms are also key factors propelling the market growth. The global mobile robotics market was valued at USD 6,249.6 million in 2012 and is expected to grow at a CAGR of 12.6% during the forecast period from 2013 to 2019." http://www.researchandmarkets.com/publication/m66o485/mobile_robotics_market_global_industry_anal
ResearchandMarkets.com's forecasts do not include pent up demand for family care social robots.
GeckoSystems projects the available market size in dollars for cost effective, utilitarian, multitasking eldercare social robots in 2015 to be $74.0B, in 2016 to be $77B, in 2017 to be $80B, in 2018 to be $83.3B, and in 2019 to be $86.6B. With market penetrations of 0.03% in 2015, 0.06% in 2016, 0.22% in 2017, 0.53% in 2018, and 0.81% in 2019, we anticipate CareBot social robot sales from the consumer market alone at levels of $22.0M, $44.0M, $176M, $440.2M, and $704.3M, respectively. The company is presently securing funding for manufacturing, marketing and final beta testing of their CareBot.
"We are pleased that the experienced market researchers at Research and Markets are sufficiently astute to accept that small service robot firms, such as GeckoSystems, can nonetheless develop advanced technologies and products as well, or better, as much larger, multi-billion dollar corporations such as Honda, iRobot, Sony, Toyota, etc.," reflected Martin Spencer, CEO, GeckoSystems Intl. Corp.
In this Research and Markets report, they also state:
"However, longer time to market and lack of experts in R&D of mobile robotics market are some of the factors inhibiting the growth of this market."
"While this is true for most, if not all of our competitors, GeckoSystems has invented numerous mobile robot solutions due to being founded by six experienced roboticists over seventeen years ago. Our breakthrough, proprietary GeckoNav(tm) AI navigation software solution enables our CareBot to sense and avoid unforeseen, previously unmapped, moving obstacles for complete safety. Further, our GeckoTrak(tm), in concert with GeckoNav, enables our CareBot to follow Grandma (or other pre-designated person) from room-to-room like a pet dog or cat follows you around your home. Therefore we have a significant competitive advantage over the 800-pound gorillas in this emerging industry. Others have failed to do what we have demonstrably done, despite tens of millions of dollars being invested for many years. The self navigation issues are that difficult," stated Spencer.
"From our humble beginnings on a kitchen table and a two car garage over seventeen years ago, we have demonstrated publicly for companies such as JC Penney, Honeywell, Dell, Ketchum-Crescent, Ember Industries, Future Electronics, Chubb Insurance, Alexian Brothers, Stryker Corp., Allied Plastics, Samsung, Mitsubishi, Hewlett-Packard, to groups of children in schools and to elderly in their homes and nursing homes. CareBot prototypes have been publicly demonstrated at the Robotics Institute of America (RIA), RoboBusiness trade shows, and numerous local computer shows.
"We believe that critical mass has now been achieved in the service robotics industry. Modern computer and depth camera vision systems technology has brought cost reductions that enable us to introduce advanced Mobile Service Robots to the retail market for use in elder care (for as little as $4,950 MSRP), security, and of course our SafePath(tm) wheelchair which is in the final stages of pre-production engineering. In light of increased government support for robotic health care assistance in the EU, Japan, China, and other countries around the globe, we feel that our market scope estimates are extremely conservative," concluded Spencer."
About Research and Markets:
Research and Markets is the leading source for international market research and market data. They hold '000's of major research publications from most of the leading publishers, consultants and analysts. They provide their clients with the latest data on international and regional markets, key industries, the top companies, new products and the latest trends.
Research and Markets
Guinness Centre,
Taylors Lane,
Dublin 8,
Ireland.
http://www.researchandmarkets.com/
About GeckoSystems:
GeckoSystems has been developing innovative robotic technologies for seventeen years. It is CEO Martin Spencer's dream to make people's lives better through robotic technology.
An overview of GeckoSystems' progress containing over 700 pictures and 120 videos can be found at http://www.geckosystems.com/timeline/.
These videos illustrate the development of the technology that makes GeckoSystems a world leader in Service Robotics development. Early CareBot prototypes were slower and frequently pivoted in order to avoid a static or dynamic obstacle; later prototypes avoided obstacles without pivoting. Current CareBots avoid obstacles with a graceful "bicycle smooth" motion. The latest videos also depict the CareBot's ability to automatically go faster or slower depending on the amount of clutter (number of obstacles) within its field of view. This is especially important when avoiding moving obstacles in "loose crowd " situations like a mall or an exhibit area.
In addition to the timeline videos, GeckoSystems has numerous YouTube videos. The most popular of which are the ones showing room-to-room automatic self-navigation of the CareBot through narrow doorways and a hallway of an old 1954 home. You will see the CareBot slow down when going through the doorways because of their narrow width and then speed up as it goes across the relatively open kitchen area. There are also videos of the SafePath(tm) wheelchair, which is a migration of the CareBot AI centric navigation system to a standard power wheelchair, and recently developed cost effective depth cameras were used in this recent configuration. SafePath(tm) navigation is now available to OEM licensees and these videos show the versatility of GeckoSystems' fully autonomous navigation solution.
GeckoSystems, Star Wars(tm) Technology
http://www.youtube.com/watch?v=VYwQBUXXc3g
The company has successfully completed an Alpha trial of its CareBot personal assistance robot for the elderly. It was tested in a home care setting and received enthusiastic support from both caregivers and care receivers. The company believes that the CareBot will increase the safety and well being of its elderly charges while decreasing stress on the caregiver and the family.
Gecko Systems is preparing for Beta testing of the CareBot prior to full-scale production and marketing. CareBot has recently incorporated Microsoft Kinect depth cameras that will result in a significant cost reduction.
Kinect Enabled Personal Robot video:
http://www.youtube.com/watch?v=kn93BS44Das
Above, the CareBot demonstrates static and dynamic obstacle avoidance as it backs in and out of a narrow and cluttered alley. There is no joystick control or programmed path; movements are smoother that those achieved using a joystick control. GeckoNav creates three low levels of obstacle avoidance: reactive, proactive, and contemplative. Subsumptive AI behavior within GeckoNav enables the CareBot to reach its target destination after engaging in obstacle avoidance.
More information on the CareBot personal assistance robot:
http://www.geckosystems.com/markets/CareBot.php
GeckoSystems stock is quoted in the U.S. over-the-counter (OTC) markets under the ticker symbol GOSY. http://www.otcmarkets.com/stock/GOSY/quote
Here is a "basher free" message board devoted to GOSY:
http://investorshangout.com/board/62282/Geckosystems+Intl+Co-GOSY
Here is Spencer's LinkedIn.com profile:
www.linkedin.com/pub/r-martin-spencer-mba/11/b2a/580/
Telephone:
Main number: 678-413-9236
Fax: 678-413-9247
Website: http://www.geckosystems.com/
Source: GeckoSystems Intl. Corp.
Safe Harbor:
Statements regarding financial matters in this press release other than historical facts are "forward-looking statements" within the meaning of Section 27A of the Securities Act of 1933, Section 21E of the Securities Exchange Act of 1934, and as that term is defined in the Private Securities Litigation Reform Act of 1995. The Company intends that such statements about the Company's future expectations, including future revenues and earnings, technology efficacy and all other forward-looking statements be subject to the Safe Harbors created thereby. The Company is a development stage firm that continues to be dependent upon outside capital to sustain its existence. Since these statements (future operational results and sales) involve risks and uncertainties and are subject to change at any time, the Company's actual results may differ materially from expected results.
Featured Product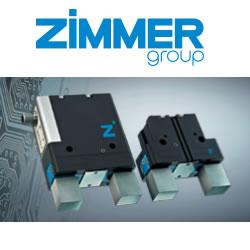 IO-Link is the first standardized IO technology worldwide for communication from the control system to the lowest level of automation.