OPC UA allows Lenze devices to be open and accessible, independent of software
UXBRIDGE, MA - JULY 23 2014 - Lenze Americas, a leading global manufacturer of electrical and mechanical drives, motion control and automation technology, has announced that its portfolio of products fully support the OPC Foundation's Open Access specifications. This new capability is enabled by the OPC Unified Architecture (UA), an updated standard issued by the OPC Foundation. Lenze's current version of the Lenze EASY Starter contains the Lenze OPC UA Server, which now makes it possible to access Lenze devices regardless of the type of software used.

The Lenze OPC UA Server replaces the previous Lenze "Drive Server" and allows customers to gain ready access to all of the company's devices and communications links that can be used in its EASY Starter engineering tool.
"This open platform means that the parameters of Lenze devices can be read and written, even when using another supplier's software, which acts as an OPC UA client and can use any operating system," said Tom Jensen, program manager, OEM business development.
The new server function is available by installing the Lenze EASY Starter together with the "EASY Advanced" license on the OPC Server page.
Numerous built-in security mechanisms, such as authentication, authorization, encryption and data integrity though signatures, provide assurance that the new Lenze interface can be used for remote maintenance, even over insecure networks.
About Lenze Americas
Lenze is a global manufacturer of electrical and mechanical drives, motion control and automation technology for Motion Centric Automation. Our products can be found in many industries, including automotive, packaging, material handling and logistics, robotics, and commercial equipment (pumps/fans). A global network of distributors and representatives makes Lenze Americas perfectly positioned to meet the motion control needs of customers worldwide. Lenze Americas, the American subsidiary of Lenze SE of Germany, is headquartered in Uxbridge , Massachusetts , with an assembly and logistics center in Glendale Heights , IL . Corporate global headquarters are in Hamelin , Germany . Lenze Americas can be found online at www.lenze.com.
Featured Product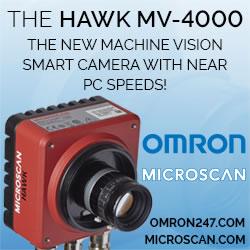 Space, or the lack of it, can be a challenge when placing barcodes or Data Matrix symbols on components. However, readable barcodes are critical to component traceability, time/date stamping, work in progress (WIP) tracking, and recall management. MicroHAWK UHD smart cameras can decode very small and difficult-to-read barcodes, including Data Matrix two-dimensional (2D) symbols and direct part marks (DPM). Users can rely on the MicroHAWK UHD to read symbols with an x-dimension almost invisible to the naked eye!