North American Drone Leader 3D Robotics Announces Strategic Acquisition of Sifteo
Berkeley, CA July 29, 2014

Today, 3D Robotics - the leading North American drone company across both consumer and enterprise channels, announces its acquisition of Sifteo, a cutting-edge consumer electronics company.
Sifteo's team of consumer electronics industry veterans (UX designers, engineers, manufacturing experts, retail operations, etc.) bring expertise in building high-quality, high-tech consumer products in large volumes and getting them into mass retailers. Sifteo's engineering team has developed a set of core technologies for high-performance embedded computation, low-latency wireless communication, virtualization techniques, and sensor fusion, which can be applied to various products.
The focus of the newly combined entities post-acquisition is on expanding from 3D Robotics' current market leadership position in the B2B and sophisticated developer and hobby drone sectors, to establishing similar market leadership in more out-of-the-box products for the everyday consumer, a vast and still emerging market segment.
Chris Anderson, CEO of 3D Robotics (and former Editor in Chief of Wired Magazine and bestselling author of The Long Tail) commented "When we first engaged with the Sifteo team, and saw their skillset, experience, and IP portfolio, we immediately recognized the impact they would have working with us to transform and grow the consumer drone market. Their consumer electronics experience and deep product skills complement our technology perfectly. We are thrilled to have the resources of both groups together to lead what we believe will be a billion dollar market over the next few years."
Sifteo, previously supported by multiple research grants from the National Science Foundation and venture financing from True Ventures and Foundry Group, will leave their customer support open for at least a full year for existing Sifteo customers.
About 3DR
3D Robotics develops innovative, flexible and reliable personal drones and UAV technology for everyday exploration and business applications. 3DR's UAV platforms capture breathtaking aerial imagery for consumer enjoyment and data analysis, enabling mapping, surveying, 3D modeling and more. Our technology is currently used across multiple industries around the world, including agriculture, photography, construction, search and rescue and ecological study. 3DR is committed to bringing the power of UAV technology to the mainstream market. They are best known for their open-sourced platform and the Pixhawk: the most accessible, widely-used autopilot hardware on the market.
Founded in 2009 by Chris Anderson, founder of DIYDrones.com, and Jordi Munoz, 3D Robotics is a VC-backed startup with over 180 employees in North America and more than 30,000 customers worldwide. Headquartered in Berkeley, CA, 3DR operates engineering facilities in San Diego, CA and manufacturing in Tijuana, Mexico.
Featured Product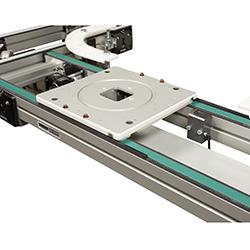 Dorner's 2200 Series Precision Move Pallet Systems are ideal for assembly automation. With features such as an innovative timing belt conveyor design and industry best pallet transfers, they get your product to the exact location, at the exact time and in the exact position it needs to be. They are now available with new options such as heavy load corner modules with 150 lb. capacity and 180 degree tight transfer corners for compact loops.