New Section 845 Other Transaction Agreement With the Defense Department Increases Scope and Scale of the Consortium
Ann Arbor, Michigan (PRWEB) August 05, 2014

The Robotics Technology Consortium (RTC) today announced that it will now be known as the National Advanced Mobility Consortium (NAMC) after entering into a section 845 Other Transaction Agreement (OTA) with the U.S. Army Contracting Command, Picatinny Arsenal, NJ. The new OTA greatly expands upon the scope and scale of the current OTA that the RTC was awarded in May 2008 for ground robotics technology. The new OTA covers the entire range of ground systems technologies for manned and unmanned vehicle and robotics systems.
The RTC has been known for successfully engaging "non-traditional" contractors, speeding the cycle of research & development and commercializing cutting-edge robotics technologies for the warfighter. The principle purpose of the NAMC will be to continue to attract new technologies and accelerate the development of basic and advanced prototype systems critical to Department of Defense (DOD) near and long-term ground vehicle system goals and objectives.
The NAMC and the OTA is available to be utilized by each of the services and will be administered on the Government side by the newly created Vehicle and Robotics Program Office (VRA PO) at TARDEC in Warren, MI. The National Center for Manufacturing Sciences (NCMS) located in Ann Arbor, MI will remain the Consortium Administrative Organization (CAO) for NAMC.
Chairman of the NAMC, Rick Jarman stated "Since 2008, the RTC has been the 'go-to' consortium for rapid technology commercialization for the warfighter in the area of ground robotics. Under the new banner of the NAMC, we now look forward to successfully accomplishing the same for all ground vehicle and systems technologies."
NAMC will have an information booth at the upcoming NDIA GVSETS conference in Novi, MI August 12-14, where Mr. Michael Del Rose, program officer of the VRA, among others, will speak. More information on GVSETS can be found at http://www.ndia-mich.org.
The National Advanced Mobility Consortium, Inc. ("NAMC"), formerly the Robotics Technology Consortium (RTC,) is a non-profit, member-driven organization of traditional and non-traditional small businesses, large defense contractors, academic institutions, and other research organizations. Via a Section 845 Other Transaction Agreement it has entered into with the Government, the NAMC accelerates the transition of innovative technology into transformative ground vehicles and systems in several important ways:
readily getting projects under contract,
enabling technology developers to better understand warfighter needs, and
empowering Government technical managers to broadly solicit ideas and concepts from industry and academia.
The National Center for Manufacturing Sciences (NCMS) is the global leader in cross-industry collaboration, leading award-winning R&D programs, international consortia, business alliances and commercialization efforts for innovation. Nearly three decades spent managing collaborative partnerships across multiple sectors have provided NCMS with a unique outlook on the connections that drive trends and effects in industry. The non-profit membership consortium is highly sought for its unique industry intelligence perspectives, award-winning collaboration model, and manufacturing technology initiatives. Visit http://www.ncms.org for more information.
Featured Product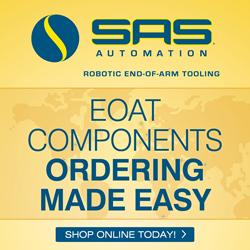 SAS Automation's complete line of modular components allows you to rapidly build your end-of-arm tools in your own plant, meeting your ever-changing automation needs on-demand. And with our newly enhanced Online Shopping Cart, it's never been easier! IT'S SHOPPING MADE SIMPLE, with features like: • Responsive Design so you can access anytime -- desktop, tablet or phone -- with ease • CAD Model Access with 3D Software Integration • Order History • Saved Quotes • Tool Builder • Product Comparisons • Enhanced Search • Social Media Sharing • Product Reviews